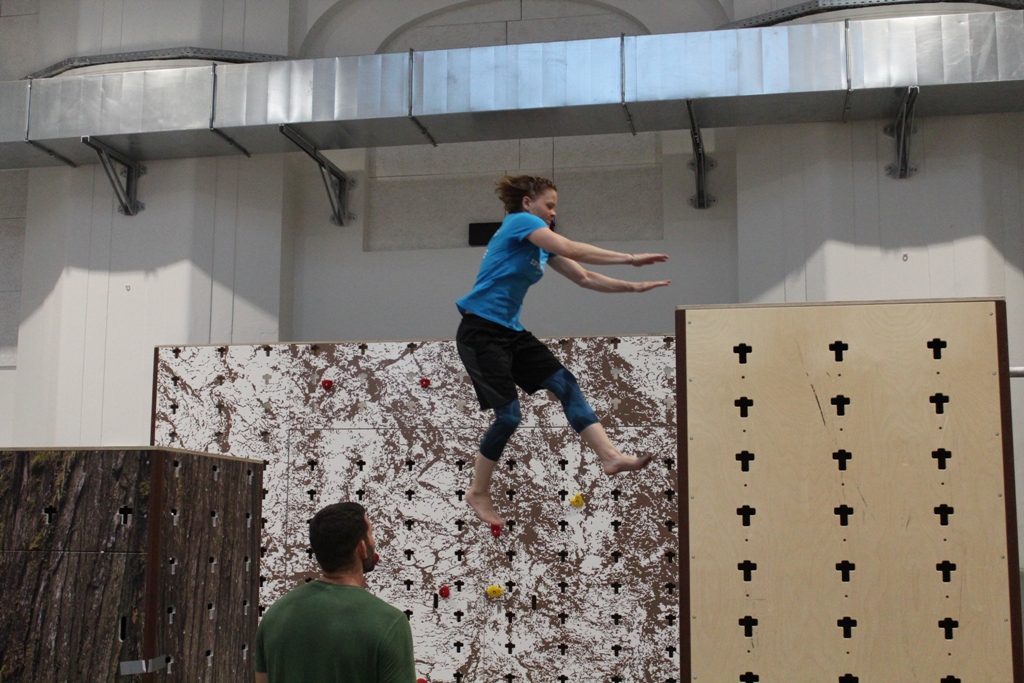 By Katharina 'Kathi' Havlicek, Level 3 MovNat Certified Trainer

In MovNat, I found a system that combines what makes perfect sense to me. In the community, I found people with whom I can walk barefoot in a forest together, and be smiled at as a group instead of as an individual by passersby. I smile back at them because I know I am doing something my body is made to do, connecting with nature on a deeper level, and moving more naturally and holistically than most of the common standard training practises of modern society.
As a training method, MovNat includes most of my favourite movement patterns. As a child, I spent most of my school holidays outdoors playing, walking, running, jumping, climbing; often in the woods, just heading home for dinner. I also grew up with Judo, and a great trainer at that. So, I feel at home with ground movements, crawling patterns, and physically manipulating others into movements.
In my late twenties, I started with Parkour & Freerunning which involved a lot of jumping, vaulting, and climbing. Also, in my late twenties, I came across strength training with external weights. Combined with my Judo practise of hoisting people on regular basis, lifting patterns were also set. I started off with different training methods and sports only to learn at my first contact with MovNat three years ago, that this method combines all crucial patterns, which I used to train and still like to do, to improve my physical wellbeing.
Due to my MovNat training, I also discovered pleasure in something (another natural movement) that I disliked for over 30 years now: Running further than 100 meters. While preparing for my Level 3 certification this past summer, I started barefoot running. I always preferred to feel the texture of the ground while walking, and regularly took my shoes off during hikes. But since I was never a fan of endurance due to certain medical conditions, I couldn´t find the motivation to go running, even barefoot. That changed with my Level 3 experience. This year, with my preparation, and after completing my Level 3 Certification, I think I ran more (often and also distance wise) than in the last years put together.
Since I am a Movement Coach, I also see MovNat from the trainer perspective. Ensured by Erwan Le Corre and his team, MovNat provides a huge pool of knowledge, systematically put together and ready to use by those who want to establish MovNat in their coaching practise, or start a new path as a MovNat coach.
I personally teach various classes, each of them having their justification in my eyes. But similar to my personal training experience, MovNat classes just make so much sense, in my opinion, to teach to as many people as we can reach. In order for them to regain and keep as many of their natural movement abilities as possible, which I think, they will sorely miss if not addressed regularly.
The most obvious example: if we hardly get down below the level of a chair or bed for a certain amount of time, the distance between the floor and chair will become unfamiliar territory – making us prone for injuries should we pass there during a slip up, when originally, that level was actually our home base as a child.

About the Author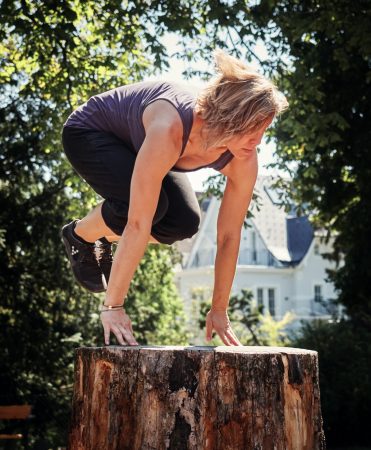 Katharina Havlicek is a Level 3 MovNat Certified Trainer at Sporthalle Wien, one of MovNat's licensed gyms located in Vienna, Austria. Kathi carries our MovNat fitness concept in her heart and knows playful and creative training elements lure even adults into practice. She relies on coffee, but even without a caffeine kick, she's always full of energy. You can follow her on Instagram at @KatharinaHavlicek.