By Clint Bauer
My story of MovNat is not a heroic tale, albeit a life changing one for myself and others. And for that, I am grateful. I was first introduced to MovNat during my Triathlon phase back when it first hit the internet, as a member in an online forum site talking about cross-training, other members suggested MovNat and posted the link to The Workout the World Forgot and I instantly felt drawn to it. It's kind of hard to explain, but deep down it felt instinctively right; who we are and who we are meant to be. From that day on, I knew I wanted to be involved with MovNat, but it was put on the back burner for some time because I kept doing 'regular' fitness and became a Personal Trainer.
For me, physical prowess has never come easily for most of my life (I'm now 39). I had been obese. Junk food was my drug. I didn't play any sports. And I lacked self-esteem and confidence. You could say I was on a path of destruction with no end in sight. Luckily for me, I did manage to put the brakes on this lifestyle. However, the lack of self-esteem and confidence stuck around for quite awhile. My partner still reminds me of how shy and non-communicative I was even when we met 12 years ago; I couldn't look people in the eye while talking to them and I struggled to talk to people, in general. I've come a long way since then, and a lot of that is thanks to MovNat being a big part of my life.
In 2008, I kicked off my Personal Training career and enjoyed training clients with the typical 'functional fitness' I'd been taught and used myself but always felt something was missing. When I delved into the interesting new world of Paleo eating and loved the health and mindset benefits it gave me, I started to wonder "how can I implement more of what our ancestors did and how they lived into other areas of my life?" and remembered what I'd earlier discovered about MovNat. I undertook the Power and Agility Course and loved it so much for my own fitness and movement that I started to incorporate some of the ideas into my client sessions; and they loved the variety and the joy they were experiencing.
I was loving MovNat so much that when I saw a Sydney certification coming up, I knew I had to do it. But money was a big barrier. So, I created my own little crowdfunding campaign that provided the funding from friends and family for me to fly from Brisbane to Sydney to do the weekend course. It was absolutely brilliant. I absolutely loved every minute of it!
From then on, I was able to provide MovNat principles and movements into my client sessions, and not only did my client's physical and emotional well-being improve, but mine continued to, too. I started to see the world around me in a way I'd never imagined possible; I saw exciting movement opportunities everywhere I went and was getting so much more out of life just by moving more and using my imagination and creativity. Sometimes to the annoyance of my partner, who at the time wasn't into MovNat, she'd want to hold hands while walking at the park or beach and I'd want to be up climbing trees and balancing on rails instead! She eventually became a fan because she saw the improvements in my own capabilities and happiness and loved that I was teaching her some of the movements. She struggled for years with chronic back pain and sickness and was finally able to move well and feel good. So it was helping me, my clients and my partner – it was all good!
From the benefits my partner Aimee has seen with being able to move well again even with a forever chronic lower back condition, I've also been able to help many other women move and feel better, especially middle aged and older which is incredibly rewarding for me and goes to show this method is truly vital and practical for absolutely everyone, of all ages. When a female client tells me they can kneel down comfortably to be able to perform their favourite hobby such as photography, or they feel more balanced at home and less likely to fall and injure themselves, I feel a sense of pride and achievement in the techniques themselves and how I've delivered them to my clients. I get far more fulfillment in teaching and seeing the benefits of MovNat in my clients journeys than I ever did using standard PT and 'functional' fitness programs.
Eventually, in my career, I included kids coaching services in my PT business, which has turned out to be a really powerful tool in helping kids become fitter, stronger, more physically and mentally capable; and for me to be able to connect with them on a deeper level, especially the shy and non-sporty kids because I've been where they are. I incorporate MovNat techniques as well as play elements into classes and private sessions, and the changes in their self-esteem and physical ability is incredible. For about the first year of working with kids, I wasn't aware of just how much I was helping the kids I was coaching, or how much the MovNat methods were positively impacting them. Clearly some of my old 'stories' were still around, and I wasn't realizing what I was doing was so beneficial and helpful to families. Eventually, though, I did, because parents were telling me how 'natural' I was with their kids, how much more confident they were at home and school and how much happier they were, in general. I know now I do great things with both the adults and children I work with and that I wouldn't have gotten to this point if it weren't for MovNat.
Some examples of success I've had introducing MovNat to clients are:
Winston, aged 9, came to me very low self-esteem and confidence as well as lacking a father figure in his life as his father passed away at a young age. He didn't enjoy team sports because he didn't feel good enough to participate which left him withdrawn and spending too much time on his tech devices. After only 12 weeks of 1:1 sessions with me (one session per week), Winston was a completely different child. The mix of Natural Movement and roughhousing that we did during his sessions allowed him to really come out of his shell, both mentally and physically and feel good about himself. I was excited to hear that he joined a Brazillian Ju-Jitsu class after finishing our block of sessions, because he was more confident and motivated.
Aiden, aged 11, came to me as a "self-confessed nerd". He lacked physical fitness, coordination, self-esteem and confidence. He had never managed to spend a whole night at a friend's sleepover because he would easily become overwhelmed by fear and anxiety. During our time together, not only did Aiden's self-esteem and confidence increase, but his physical abilities and fitness also improved. He achieved things he never thought he would, such as signing up to the school cricket team and coming 3rd place in sprints at his school sports day. He also no longer has worries about sleeping at friend's houses and is not afraid to try new things.
Sandra, in her late 50's, came to me with the big goal to walk the Camino Trail in Spain, with her challenges being she had very poor balance, lacked stamina and overall strength and fitness and wanted to feel confident attempting the big trek. We worked weekly for a few months, and all the balance and agility work we did helped her feel fit, strong, capable and also to enjoy the movement journey to her goal, not hate having to get up in the morning to simply 'exercise'. Sandra successfully did the trek, and even managed to climb over a single narrow log over a creek that she would not have been able to do before. We had so much fun training together, and I'm so glad I helped her move better and accomplish one of her dreams.
Another benefit I've seen for myself and other people's experience with MovNat is the increased awareness and appreciation of nature and our environment. When we move in nature and focus more attention on all aspects of it, we become more appreciative and grateful for it, in general. This is so important for kids, not only for them to become more confident in nature and outdoor environments and situations, but also to have a deeper connection with nature to help them care for it as they grow up. Promoting stewardship for the land they live on and need.
Basically, what I've achieved thanks to MovNat is confidence in myself, coming out of my really shy shell, better connection to my natural roots and myself, the ability to truly help others, and the desire to want to keep doing and being more moving forward. Personally, I look forward to the new challenges ahead of becoming Level 2 and 3 certified – gaining more capability for myself and becoming a better more community-orientated, generous, and helpful human being.

Get Started With Natural Movement Fitness – TODAY!
The MovNat Level 1 Certification is your entry point into the world's official Natural Movement Fitness program. It equips you with the knowledge, skills, and methods you need to transform your movement & fitness and build real world capability from the ground up.
Over the last ten years, MovNat has helped thousands of people from all walks of life restore their natural abilities and lay a foundation for a deeper, lifelong movement practice. We are the original, official, and only Natural Movement Fitness certification, with thousands of certified professionals and dozens of MovNat Licensed Facilities all around the world. Whether you're completely new to Natural Movement Fitness, or a seasoned veteran looking to expand your skillset, the MovNat Level 1 Certification is your launchpad to a deep understanding of natural human movement, how to integrate it into your training and lifestyle, and help others do the same.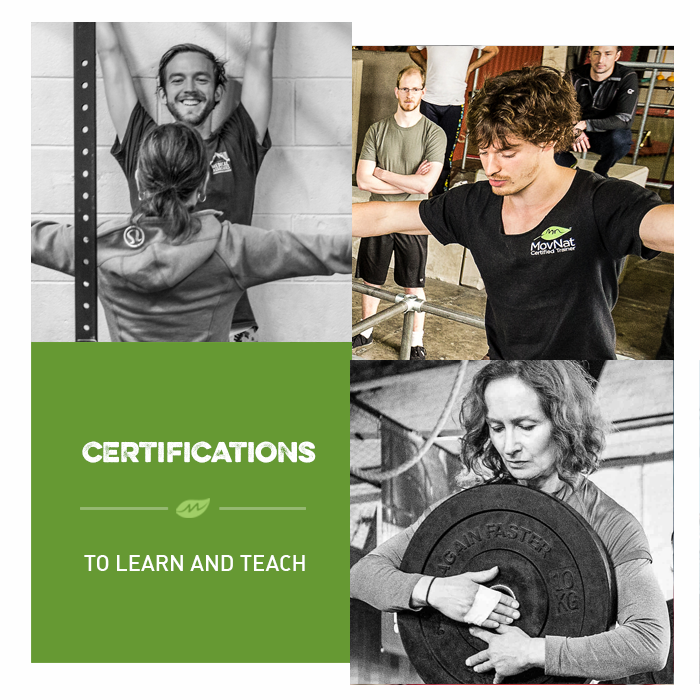 Check out our programs designed for professionals and serious enthusiasts who want to take their movement skills and fitness to the next level.