Miles of pristine, peaceful, and undeveloped coastline, the wild, natural beauty of jungles, mountains, and Costa Rica's unique flora and fauna – Playa Hermosa is the perfect location for a 7-day  MovNat fundamentals retreat.
Learn optimal methods of walking, running, jumping, balancing, crawling, climbing, lifting, carrying, throwing, catching, swimming and defending. Rediscover your true nature, challenge yourself, leave the zoo behind, restore balance to body, mind, and spirit. In addition to the 13 movement skills, you will practice and sharpen your ability to perceive and react adaptively to the messages from your body, environment, and the situation. Develop the mind-body qualities needed for effective and efficient action, and learn methods of breathing that will allow you to remain relaxed and alert in practice and in life.
We will train on the beach and in the nearby jungle. Accommodations are in the quaint, perfectly situated Playa Hermosa Bungalows on coastline Playa Hermosa. Playa Hermosa is one of the most famous surfing beaches in Costa Rica. In your free time, you can swim, enjoy strolling or relaxing on the beach while the waves roll in, watch flights of tropical birds from your private veranda. Breathe, open up to the sensory experience of tropical paradise and just enjoy.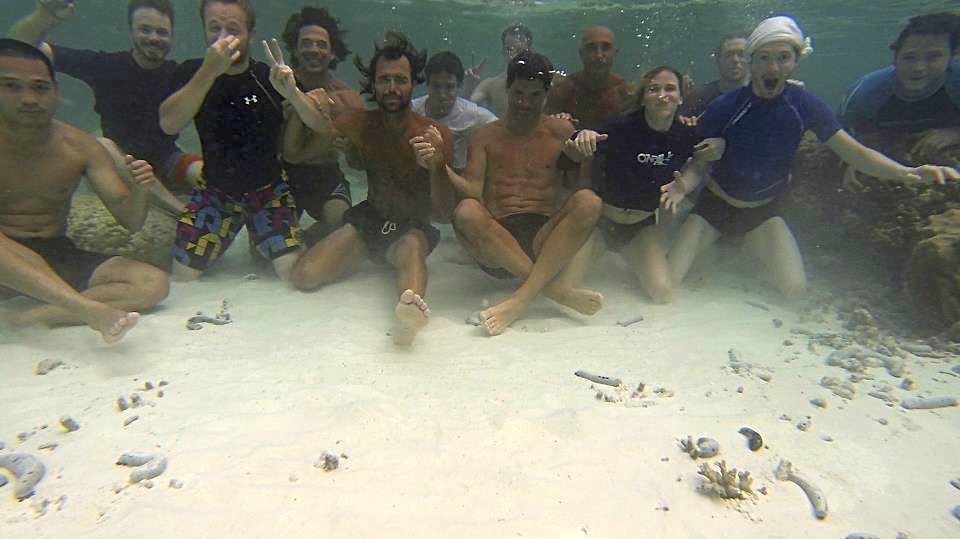 For certified MovNat Trainers:
You can also use this opportunity to become certified as a MovNat Combatives and MovNat Aquatics Specialty Trainer. When you book your spot for one of our workshops in Costa Rica, simply select the option "Additional Aquatics + Combatives certifications".
What if you're not already a MovNat Trainer?
Combine vacation and professional development in a beautiful environment, by participating in one of our Costa Rica 7-day retreats while becoming certified as a MovNat Trainer. You have the choice between just becoming a Level 1 MovNat Trainer, or adding more value, knowledge and credentials to your resume by becoming a Level 1 MovNat Trainer and an Aquatics and Combatives Trainer.  Are you ready to go on a life-changing, exotic adventure, MovNat-style? Our retreats are open to all skill levels. You don't need to be fit to practice MovNat – you will become fit in the process.
Dates: We are offering two workshops in Costa Rica for Spring 2013
April 2nd to 9th 2013 (

SOLD OUT

)
April 13th to 20th 2013 (

ONLY 1 SPOT LEFT

)
Discount: 10% off for couples sharing the same bungalow. 15% off for active LEO/MIL
Secure your spot and escape from the "Human Zoo"!
'You don't have to be fit to start MovNat. You learn to move efficiently with MovNat and become fit in the process.'
More about the wild beauty of Costa Rica…
Costa Rica has bewilderingly diverse landscapes, flora, and fauna. From rain forests, to dry tropical and temperate forests, to volcanoes, to Caribbean and Pacific beaches, to high mountains, and marshy lowlands.
Costa Rica is one of the world's most popular destinations for eco-tourists because of its biodiversity. It has been stated in various places that Costa Rica may contain as much as 6% of the world's plant and animal species in an area the combined size of the U.S. states of Vermont and New Hampshire. Both tropical plant and animal species abound in Costa Rica. Some of the more impressive plants range from huge ficus trees with epiphytes abounding on their limbs to approximately 1500 different orchids. The animals are equally as impressive, whether it's a jaguar (the largest cat in the New World), the ever-elusive Margay, or the wonderful birds like the green or scarlet macaws (lapas in Costa Rican Spanish.) The amphibians are also quite impressive; the poison dart frogs with their bright colors are bound to catch your attention, or the giant cane toads.
Costa Rica is world famous for having an incredibly high level of biodiversity throughout its tropical forests (this covers what you may hear referred to as rain forests, cloud forests, and dry forests). There are tropical mammals such as monkeys, sloths, tapirs, and wild cats as well as an amazing assortment of insects and other animals. There are many many birds (both migratory and resident) – more on that below. With 25% of the country being national parks and protected areas, there are still many places you can go to see the abundant wildlife and lush vegetation of the country. Just like anywhere, the farther you get off the beaten path, the more likely you are to see a wide variety of flora and fauna.
There is such biodiversity in Costa Rica not only because it's a land bridge between North and South America, but also because the terrain is so varied and there are weather patterns moving in from both the Pacific and Atlantic/Caribbean. There are impressive volcanoes, mountain areas, rivers, lakes, and beaches all throughout the country. There are many beautiful beaches – most of the popular ones are on the Pacific side but the Caribbean has many excellent beaches as well.
One of the most wonderful activities for people who love nature is bird watching. You can enjoy bird watching in many areas of Costa Rica. Due to the great diversity of climates, temperatures and forest types in Costa Rica, there is a wonderful variety of birds, with over 800 species. Some helpful books available on bird watching are Birds of Costa Rica by F. Gary Stiles and Alexander Skutch (Cornell University Press) or An Illustrated Field Guide to Birds of Costa Rica, illustrated by Victor Esquivel Soto. Plastic cards with the most common birds are available for many areas and are sold at gift shops.
For more information about the amazing diversity of geography and wildlife in Costa Rica, you can read more at: wikitravel.org/en/Costa_Rica