The 7th MovNat Principle: Efficient
Posted | 1 comment

It's natural, but is it efficient?
In the previous blog entries, we've seen that moving naturally means moving in a human species-specific way and that those movement aptitudes are evolutionary, instinctual, and universal.  Since every human being possesses those fundamental aptitudes, anyone can do it.
'Anyone can run, jump, balance, lift and carry, etc…to some extent at least.  But will everyone move naturally with efficiency, or, if you will, skillfully?'
Indeed, one can move naturally either mediocrely or skillfully, impacting both performance and the body negatively or positively.  So, what is the difference between natural and efficient?  The answer can be found when you reflect on the difference between an aptitude and a skill.  An aptitude is a natural ability or tendency to do something.  It is spontaneous and subconscious, but it is also basic and rough.  A skill, on the other hand, is the ability to do something well.  A skill is an expertise – it is mindful, advanced, and refined.
It is easy and common to correlate "spontaneous" or even "random" with "natural" and to confuse "natural" and "efficient."  At MovNat, we have observed time and time again that the spontaneous, natural movements of an untrained individual are most of the time random, but rarely efficient.  Understand: what you do spontaneously is not necessarily efficient just because it came spontaneously to you, and even the habit or pattern you have accustomed yourself to for a long time is not necessarily efficient just because it now feels "natural" to you.  We call this "subconscious incompetency."  In brief,
'Moving naturally is innate, a primary nature in us, but moving efficiently is an acquired, second nature.'
The case for efficiency is a case for coaching
There is a widespread notion that what is natural to us cannot be learned or taught.  This must be one of the most romantic misconceptions of all.  We have seen that the reality is that a natural aptitude and an efficient skill are two distinct things, and that while our natural species-specific movement abilities belong to all of us, efficiency is not necessarily hard-wired into this evolutionary package.  That is especially true in modern populations living unnatural lifestyles, fed unnatural food, with a reduced physical expression and little contact with nature.  We have become zoo-humans, with the result that our bodily functions are completely out of whack, leaving our evolutionarily natural athleticism little chance to develop fully.
Until you've been able to transform basic, innate abilities to move into acquired, advanced movement skills, you will not be able to perform as well as you could or should.  Practice does not make perfect.  You will only improve if you practice efficiently.  Being unaware of your inefficient movement patterns and insisting on increasing physical conditioning to improve your fitness level or work capacity by adding intensity and volume without ever addressing technical efficiency is not at all the most effective route to excellence.   Repeating a mediocre or harmful movement pattern over and over will imprint an inefficient pattern in your neuromuscular system, leading to sustainable…inefficiency and even chronic injury.  Unconscious incompetence can be very costly.
MovNat is acquiring skills
When considering movnatting, i.e., practicing practical movement abilities in an unspecialized manner, think efficiency or skill.  Don't take efficiency in natural human movement for granted.  Exploring your instinctive movement patterns is only the beginning of your journey to movement competency.  The practice of MovNat is based on knowledge, principles, methods, techniques, and mindful practice which together allow superior movement efficiency and performance.
'Becoming fit through the practice of efficient movement skills enables a physical and mental conditioning that is the most effective and applicable to all areas of life.'
If you want to become efficient and, ultimately, to build advanced physical competence, you need to think of sources and methodologies that will allow you to acquire, effectively and safely, what goes beyond the innate in you.  Learn and practice efficiency and become skillful in moving naturally.  Learning is educating yourself.  The more you know and the more you know how – the more options you have. That is why knowledge is both liberating and empowering.   Ultimately, learning should always make you more free and self-reliant, and that is also what genuine teaching should help you achieve.
The conclusion?
while….
Erwan Le Corre
Founder of MovNat and Master Instructor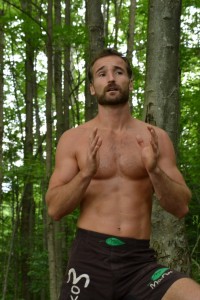 Do you primarily emphasize metabolic conditioning over movement efficiency?  Do you possess a solid technical movement foundation for your fitness training?  Share your views with us.
In the next blog entry, we will discover the 8th MovNat Principle, which is also the true measure of capability and efficiency:  Adaptability.
Copyright © 2012 MovNat
To stay informed about the upcoming release of the MovNat Book in 2013, subscribe to the True Nature Newsletter. Learn about MovNat Certification.
Facebook Comments
comments