The 6th MovNat Principle: Unspecialized
Posted | 5 comments

No natural human movement aptitude is optional
Real-world, practical physical competency means a certain level of physical and mental preparedness.  Some of those demands are predictable, some are not.  You never know which movement aptitudes and physical or mental quality will come in handy.
A human animal living in nature will need the full range of our species-specific movement aptitudes if they want to survive.  In the modern world,  even though these abilities may seem less and less relevant, they retain the same vital value.  When you are confronted with a survival situation or other form of challenging physical demand, you must be able to respond immediately. You cannot discard any movement skill.
'What's the point if you can lift heavy, but cannot run?  If you can run for distance, but not climb?  If you can fight, but not swim?'
With such a situational approach in mind, it is clear that no movement skill is optional and no physical quality is accessory.  All of them are potentially vital.  This is why the 6th MovNat Principle is unspecialized.
Humans are movement generalists
During adulthood, the members of a particular ancestral human group  (let's remember that in modern society almost all original movement abilities have become accessory) may have to become more proficient at running, swimming, carrying or climbing, for instance, because of their environment or their survival strategy.  This doesn't mean, however,  that they can't perform the entire range of human species-specific movements.
As a species, we did not evolve with this rich variety of movement aptitudes so that one day we could become sport-specialists or elite athletes and gold-medal champions. Originally, were were not movement specialists, nor could we afford to be.
MovNat is not a hodge-podge system of specialized sports activities; it is the general practice of the full range of human movement aptitudes. This kind of  movement practice is closest to the original and most ancient forms of human physical activity. Evolutionarily,  it is the type of physical activity that makes the most sense.  Hominids were  running millions of years before the first marathon, and they were  climbing before rock climbing as a sport existed.  They were throwing handcrafted hunting weapons several hundred thousands of year ago, long before throwing the javelin became an Olympic sport.  Our ancestors were performing all those movement patterns,  because they had to in order to survive in a wild environment.  Every specialized sport is made possible because early hominids, and then early humans, developed those skills.
'The choice of sport specialization is a luxury made possible only by a lifestyle no longer dominated by the demands of basic survival in a wild environment.'
Mixing the specialized?
Let's take the example of MMA, which stands for "mixed martial arts."  But why do we need to mix existing martial arts, if not because we have separated into specialized arts in the first place?  But how did ancient warriors train?  Not in a specialized manner.  They would train all fighting skills, striking with all body parts, taking down, grappling and parrying, because in the heat of the battle, all of those fighting skills could have been vital.  The current trend of MMA is a return to the unspecialized approach to combative skills, and it makes a lot of sense.  Of course, all these skills can be trained separately, just like every technique can be trained separately, but in the end, the goal is to create well-rounded fighters and not specialized martial artists.  We apply the same reasoning to all natural human movement aptitudes, which originally were not specialized skills.
Cross-training?
MovNat is also not a cross-training type of fitness.  We only need to "cross-train" when we have become specialized in the first place.  When you are a sport specialist, you're very likely to need supplemental training to correct the imbalances that may result from focusing exclusively on your chosen physical activity. Such supplemental exercise, which may be called "conditioning," is an attempt to address the physical deficiencies, inabilities, or even chronic injuries caused by specialization.  Ironically, conditioning to the weight lifter could mean doing some running for cardio, while  to the runner,  it could be lifting weights to gain strength.  The lifter will not run for the sake of  actual running ability.  The runner will not lift for actual lifting ability.  Movement skills are not practiced anymore for what they are, i.e., for their practical applications, but are used instead to achieve indirect and ultra-specific goals.
Movement itself and whatever skill it belongs to, are not the finality anymore. When doing a pull-up, we see an upper body strength conditioning drill.  There's nothing wrong with that, but where is the skill?  If you were to train MovNat, you would see a climbing movement.  Is it the same?  Nope – it is in fact a radically different approach.  In a MovNat approach, pulling your body up is a practical and adaptive movement, and you know that there are many other practical and adaptive ways to climb that all must be practiced if you want to become both specifically skilled and conditioned.  Now, if you condition through a pull-up series and limit your training to those, you will acquire a general conditioning, but such general conditioning is actually specific.  In short, you become more capable in doing pull-ups, but not necessarily a better climber, overall.  General or specific conditioning may help the practice of your skill, but in the absence of a broad movement skill foundation, the outcome is sub-optimal.  Oppositely, when you practice a given movement skill  and all of its techniques and variations, you are conditioning in a broad and specific way.  You will naturally obtain the most specific and most applicable conditioning, and in the most effective manner.
Movement skills, and the conditioning that naturally stems from their practice, are the finality.  If you aim at becoming ready for whatever physical challenge life throws at you, you'd better acquire physical competence, which means first honing broad movement skills, then the conditioning associated with those skills.  You want to be a well-rounded generalist, i.e., an  unspecialized movement athlete.  In the absence of a solid, broad movement skills foundation, "general conditioning" is  a sub-optimal approach to physical competence for the real world.
Address weak points
Embrace your specific personal inclinations when they're healthy, but resist them when they're not.  You may possess strengths, you may temporarily specialize, but the "reality of reality" demands highly practical and adaptive skills and conditioning, i.e., physical competence, and doesn't really leave you with the option to become a pure specialist.  The objective of this post is certainly not to undervalue the great benefits of specialization or negate the technical advances facilitated by sport specialization over the last decades (and in certain cases over the last centuries). Sport specialization has contributed to human greatness, this is undeniable and something that must be paid tribute to. There is nothing wrong in specializing, but ideally, you want to make sure that you have obtained and maintained a decent level of skill and conditioning in every human-species specific movement aptitude.  It is a foundation that any sound physical education program should provide to each individual.
Unless you are a specialist at heart or a high level sport competitor, you have everything to gain by practicing all of our natural human movement skills in a combined way - physical competence-wise, health-wise, satisfaction-wise, and even fun-wise.
The goal is to be well rounded…with sharp edges.  We strongly encourage you to address your weak points rather than only specializing on your strong points and to broaden the scope of movements you can perform with ease and efficiency.  We encourage you to do this even if it doesn't feel quite "natural" to you at first, even if it gets you out of your comfort zone, because we believe courage is about finding and addressing our weak points.

'Maybe the true meaning of courage is about putting our weaknesses on the line

and transforming them into our strengths.'
Erwan Le Corre
Founder of MovNat and Master Instructor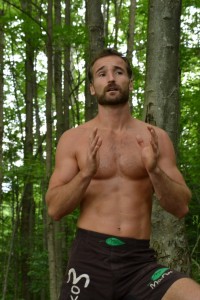 Do you train to be a sport specialist or to be an all-around athlete?  Share your thoughts or your story with us.
Copyright © 2012 MovNat
To stay informed about the upcoming release of the MovNat Book in 2013, subscribe to the True Nature Newsletter. Learn about MovNat Certification.
Facebook Comments
comments