The 5th MovNat Principle: Vital
Posted | 3 comments

Moving Naturally.  It is Vital.
In the last entry, we covered the 4th MovNat principle, Practical, and explained that true self-confidence stems from real-world physical competency.  As a matter of fact, the ability to effectively and efficiently perform practical physical actions is not only useful in day-to-day life, it can prove to be of vital importance, i.e. useful in extreme or life-threatening circumstances.  Therefore, the 5th principle, Vital, is a direct extension of the Practical principle.
Indeed, the practicality of our universal, human-species-specific movement aptitudes is so essential that it can potentially save your life and the lives of others.  The vital nature of such a competency is timeless.
Fitness as Survival Ability
From a biological standpoint, fitness is the ability to reproduce. But you won't propagate your genes if you cannot survive long enough to do so.  You need fitness first for the primal, fundamental purpose of survival.
From a modern standpoint, however, fitness is mostly about looks.  It is no wonder that biological fitness is diminishing in modern populations.
In a world where modern comforts are slowly but surely making even walking optional, you may wonder why you should bother practicing the evolutionary movement skills, like jumping, climbing, carrying heavy objects or even crawling.
You practice, because even a hi-tech world like ours is not devoid of danger and it can strike at any time.
In times of danger, you will never hear "Play ping-pong for your life," but you may very well hear "Run for your life!" You may have to jump, climb, crawl or swim for your life, even fight for your life … or do all of those things and more to help save the lives of others.
The fitness industry wants to help you to be "beach-ready."  At MovNat, we want you to become beach-ready, as well, but from a MovNat standpoint.
'You are not "beach-ready" just because your body shape looks good. You are "beach ready" when you can run, swim, and carry someone out of the water to rescue them  from drowning.'
At MovNat, we want you to be strong physically and mentally.  We want you to exercise  the mental qualities for action – to be prepared, alert, responsive, self-controlled, brave, and ready and willing to help.
Train for Life!
We want you to embrace a realistic, no-nonsense, situational mindset in your physical training.  We want you to leave behind the learned helplessness and self-imposed limitations and acquire indestructible self-confidence.
One of the most effective ways to accomplish this is to train for optimal physical competence. This includes training broad movement skills and the conditioning associated with them, as well as acquiring a certain level of situational intelligence.
We want you to see the big picture, which is that, ultimately, exercise, working out, fitness training – you name it – has a more meaningful and noble purpose than improving your looks or breaking a push-up record.  Fitness goes beyond your "total."
'Ultimately, physical training is all about being life-ready.'
It will always be the case that some people just want to show off  their 'big guns' and that's fine, if that's the kind of fitness they are satisfied with.  But how do you show off  real-life movement skills?
You don't.
Join the MovNat community and become a helpful and useful athlete. Train for life!
Erwan Le Corre
Founder of MovNat and Master Instructor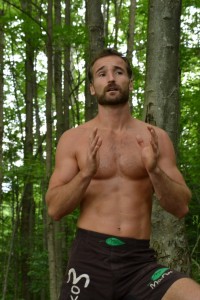 Have you ever found yourself in a life-threatening situation?  Do you keep in mind such a possibility when you train?  Does your training help improve your overall physical competence, and to what extent is your training applicable to real life?
Copyright © 2012 MovNat
To stay informed about the upcoming release of the MovNat Book in 2013, subscribe to the True Nature Newsletter. Learn about MovNat Certification.
Facebook Comments
comments