The 4th MovNat principle: Practical
Posted | 8 comments

Movement for the real world
The primary reason behind the existence of our universal, human species-specific movement aptitudes is the necessity to perform all of the tasks that are essential to natural life.
The human being, just like every other animal, needs to move and perform physically in order to seize opportunities and avoid threats in a variety of natural environments: when hunting or gathering food, building a shelter, transporting all kinds of things, or defending oneself or others.
Indeed, the true, i.e. the original, meaning of fitness lies in the ability to effectively respond to the demands of the real world.  At MovNat, our motto could be:
'Show us how well you move and perform in the real world, and we will tell you how fit you are.'
Modern Fitness Industry, Superficial Goals
The modern fitness industry, for the most part, is focused on the superficial and temporary rewards gained by improved physical appearance.  Though having a good looking body may be an indication of fitness to some degree, to be fit goes well beyond how good you look.  In the first place, being fit means you are physically and mentally prepared for the demands of the real world, which range from the basic situational demands of daily life, to exceptional and extremely challenging circumstances.
The general population has been consistently conditioned to believe that "true" exercise must be compartmentalized, addressing either strength or cardio, and that it should target specific muscles independently and regardless of real-life applications.
It's this approach to exercise and fitness that prevails in the modern fitness industry and these methods haven't changed much in decades, if at all.  Most of them stem from the body-building trend which started in the late 70′s.  This reductionist thinking leads to mechanistic, segmental muscle-isolation drills that provide little to no benefit to our day-to-day life.
The truth about fitness can be found in the reality of our biology: the body is not meant to work in isolation, rather, it is designed to work as a whole.  And the psychological reality is that  isolation drills are boring, because they are significantly divorced from how nature wants us to perform physically.
Intellectually, we may find ourselves buying into the supposed benefits of  "cutting-edge science" fitness protocols, but working out this way almost always feels like a chore to most of us.  From an evolutionary standpoint, such drills make no sense, and at a subconscious level, our primal body and mind know they are being tricked.
'It is no wonder most people don't stick to these evolutionarily irrelevant regimens, as they reflect a profound ignorance of our real fitness needs and potential.'
Real fitness is functional.  But you must understand "functional" as utility or practical capability, because it is manifested in practice and action.  It is an essential distinction.  Of course we need a functional body in order to perform practical actions.  But the problem with functional fitness is that it is mostly focused on theories, which leads to performing drills that have  little practical application.
Now, when you focus on the practical outcomes – let's say the various ways to clear a particular obstacle or to manipulate a particular object – you are going to move and perform in the most functional way, because your exercise will be entirely focused on operating with the most efficiency and adaptability possible, i.e with the greatest competency.
'Training for practical goals means you've got the most direct and objective way to assess if your physical action works on not in each specific, practical application you aim for.  This is a powerful source of motivation.'
An individual possesses functional fitness only when she can effectively and efficiently execute a broad range of physical actions necessitated by real life demands and participate in a directly useful manner.  If 'functional fitness training' does not result in the development of highly practical movement abilities and the specific conditioning associated with these abilities, then this 'functional fitness training' is devoid of significant practical benefits.  In MovNat, an unfit and unskilled body or an untrained mind will be revealed immediately, regardless of physical appearance or attitude.
Think Movement Competency, Not Only Muscles or Conditioning

Muscle size or shape will do very little for your practical performance.  Even great general conditioning and fitness might not result in optimum physical competence in the absence of a solid foundation of movement skills.  Maybe you are fit, but are you adept at moving well?  And when you realize that your physical competency is limited, it can also diminish your self-confidence.  Conversely, when your physical competency builds, your self-confidence grows along with it.  You will find yourself possessed of a genuine, solid and lasting self-confidence.  You don't build a fit body just by growing the size or shape of its muscles.
'

Regardless of muscle size and shape, a body and mind needs to be able to perform well in the real world'.
_"But, but, in my "real" life I don't need any of this!".   No?  Never?
So let me hammer it one more time:
'Fitness training makes real sense when it is highly applicable to a wide array of practical situations of life.'
Capish

?

Mirror-athlete or real-life athlete?  Your call

Instead of obsessing over the reflection in the mirror, we strongly recommend that you invest more time and energy in acquiring real-life movement and physical competency instead.  The good news is that if you move the way nature originally intended you to move and you pay attention to other important lifestyle habits, you are guaranteed to get the better looking body you would like to have.
Erwan Le Corre
Founder of MovNat and Master Instructor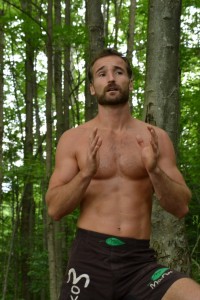 How practical is your fitness regimen? Do you train for the demands of the real world? Do you get the desired outcome?
Copyright © 2012 MovNat
To stay informed about the upcoming release of the MovNat Book in 2013, subscribe to the True Nature Newsletter. Learn about MovNat Certification.
Facebook Comments
comments