The 3rd MovNat Principle: Universal
Posted | 2 comments
Natural human movement abilities, shaped by our collective evolutionary heritage and biology, belong to every human being, regardless of gender, ethnicity, cultural or religious background.
Human Specific Movement Abilities are Truly Universal
Think about it.  In every corner of the world, given the freedom to do so, children cycle through and master the same species-specific movement stages as they develop, driven by instinctual curiosity and determination.  Everywhere. On every continent and in every country.
For the most part, moving naturally is not a matter of theory, style, traditions, conventions, invention, or creativity.  There are not as many different ways or styles for walking, running, jumping, climbing, carrying, for example, as there are cultural differences in the world.  The Japanese will move like the French, and the American like the Senegalese.  The African will move like the Caucasian, and the Asian like the Aboriginal.  The woman will move like the man, the young like the old.
'The human body navigates its environment using the very same movement aptitudes, no matter the country, terrain, or family into which it was born.'
Moving naturally is truly universal.  If you were to visit the most remote village on earth and ask the people living there if they could perform some body-building drills, Tai Chi, Yoga postures, or a waltz, it is likely that they would have no idea what you are talking about.  They could not join you in these activities without some demonstrations and lessons.
You can go anywhere in the world and see people move naturally.  You can go anywhere in the world and ask people if they know how to jump, climb, carry, throw or defend themselves, and they will know what to do immediately.  They may be in poor physical shape, they might be clumsy or frail, but they will still possess – barring any severe physical disability – the basic ability in all these movement aptitudes.
They may not move with great efficiency, but everyone, young and old, women and men, rich or poor, can perform some of these fundamental movements.  We may have different skin tones, voices, eye and hair color, personalities, morphologies, etc., but our human anatomy and its biomechanical functions are the same, and they respond and adapt to the same natural laws of physics.  They are all the outcome of the same basic evolutionary demands.
Cultural, social, religious, and traditional conventions can seem like walls that separate us.  Yet, if you were to visit any park in the world and observe children at play, that's all you would see – children at play.  Boundaries dissolve.  All children, given the freedom to do so, move, play, and laugh – these are universal languages.  Our evolutionary movement commonalities connect us and can bring us together.
'The value, beauty, and power of natural human movement resides in its universality.'
Erwan Le Corre
Founder of MovNat and Master Instructor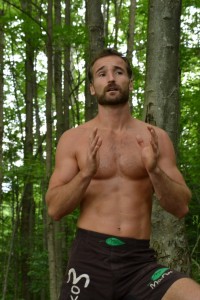 How do you train your body? Do you practice evolutionarily natural movement aptitudes like running, jumping, climbing, etc.?  Or is your practice based in specific exercise theories, traditions, arts, or conventions?
Copyright © 2012 MovNat
To stay informed about the upcoming release of the MovNat Book in 2013, subscribe to the True Nature Newsletter. Learn about MovNat Certification.
Facebook Comments
comments