The 2nd MovNat Principle: Instinctual
Posted | 4 comments
In the last entry, we discussed how moving naturally is part of our evolutionary and genetic agenda.  Moving naturally is instinctual – an innate behavior, and it is the second MovNat principle.  It is for this reason that young children start moving naturally without any instruction and even before the full development of language.  Have you ever witnessed young children spontaneously doing biceps curls or crunches?  Certainly not that kind of segmental, mechanistic exercise!
They start on their journey to more sophisticated movement by crawling, and they will climb stairs before they can even stand up.  Then, they will stand, balance, walk, run, jump, pick things up from the ground and carry them, throw them, etc.  Children develop the full-range of human movement aptitudes through instinctual exploration, a powerful drive they cannot resist.


Moving naturally is so instinctive in young children that they will run, jump, climb, move on all fours, etc. even in artificial, man-made, urban, or indoor environments.  They have no concept of social convention or other restrictions that might inhibit their instinctive movement exuberance.   Any environment presents itself as an opportunity to explore their movement abilities.  Moving naturally is not something children consciously plan to do – it is a subconscious impulse, a pure expression of who they are.  Deep inside of them, they know that they must move and grow strong.
Pretty impressive huh?
It is a common misconception, though, that kids' movement play is purely about fun.  The way they play can be risky and even aggressive and brutal.  They instinctively push their limits.  They challenge themselves and take risks.  If we were to invite adults to participate in similar activities, they would likely drop out quickly, finding this kind of 'child's play' too hard, too difficult, or even dangerous.  However, without any teaching and free from rules and conventions, kids will express their splendid humanness through energetic movement with great simplicity.
We learn to become "zoo-humans"
Unfortunately, under constant pressure of social conventions and the irresistible comforts and distractions of modern life and technologies, this instinctual drive for moving will, in most cases, seemingly disappear.  While it is acceptable to work out on an elliptical, it is considered strange to climb a tree nowadays, even for children.  It is acceptable to buy the latest fitness gadget you've seen in that TV commercial, but it is less acceptable to move or exercise like a real human being, in natural ways.
'We have become, to a significant degree, domesticated creatures.'
The process of domestication is a process of repression, diversion, distraction, subversion and suppression of important human instincts and natural behaviors.  Our dysfunctional, limited movement patterns and activities reflect the effects of this process.
Or, could it be that we are  in this mess, because we have gone too far in the direction of our instinct to survive at all costs, to seek pleasure, shelter, comfort, and avoid pain?
So this is acceptable…
…but this is not?
Reawaken your instinct to move…naturally
Whatever the causes, it is time to stop torturing our nature and begin nurturing it.  It is time to re-acquire what is innate to us.  Now is the time to start your movement exploration again.  The way you will move may be hesitant, it may be insufficient or inefficient, but at least it will be authentically human.  Not everyone may be in great shape or naturally skilled and proficient at performing those evolutionary movement patterns,
especially in modern and civilized populations, but at least no one really starts from scratch.  Absolutely everyone possesses minimal natural movement abilities.  Start with exploration, even if it is random, even if it feels awkward.  Just keep it safe.  Pay a visit to the playground, watch how children move, and I guarantee you that you will learn a few things.  Children truly lead by example - they have not yet been influenced by the fitness machines and Global Gym trainers.
Once you realize the powerful simplicity and amazing potential moving naturally holds for your health and fitness goals, it will be time to consider effective methods and guidance to up your "movnat" game.  Moving naturally may be instinctual, but moving efficiently is a skill that must be acquired and that demands mindful, consistent practice.
'Random, explorative experimentation is the first phase of your journey

to natural human movement mastery.'
Erwan Le Corre
Founder of MovNat and Master Instructor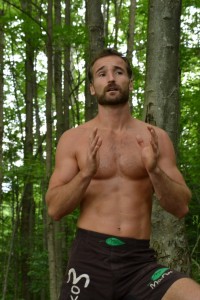 Ask yourself: why have you abandoned your ability to move naturally?   When did you lose this drive, and why have you given up that freedom and fun?
Copyright © 2012 MovNat
Facebook Comments
comments