The 1st MovNat Principle: Evolutionary
Posted | 11 comments

The Evolutionary Foundation of Naturalness
The word "natural" is probably one of the most evident, yet most misunderstood and confusing words.  What is natural is always popular and will always draw the attention and interest of anyone in search for authenticity and health.
Many products today are labeled as "natural" even where they're not, simply to increase their attraction to buyers, including food products, cosmetics*, vacation packages, and fitness methods. Such a fallacy can be found everywhere in some form or another.
Theodosius Dobzhansky, a famous geneticist, once stated that…
"Nothing in biology makes sense except in the light of evolution." ~Theodosius Dobzhansky
Human movement aptitudes, just like nutritional and other physical needs, are part of our species-specific biology; this is the outcome of evolution.  So if we want a fitness program that would be biologically relevant, we need to look into our universal movement past.  This is why the primary principle qualifying MovNat as a natural physical activity is that the movement aptitudes we practice are "evolutionarily natural,"  i.e., the natural outcome of evolution.  Because if they are not evolutionary, are they truly natural?
'Something with no relevance in regard to evolution is very likely to be of no relevance in regard to naturalness.'
Fitness concepts or physical activities that stem from theories, traditions, conventions, or personal creativity (but not from millions of years of human natural activity in the wild) are not the outcome of evolution but the outcome of theories, traditions, conventions, or personal creativity.
You must be able to trace the origin of the movement aptitudes practiced in our most ancient, universal past –  not 1000 years, and not even 10,000 years ago, but 100,000 or millions of years ago.  If you cannot trace the origin, then what you are presented with does not qualify as natural.  Does that mean it has no value?  Of course not.  But it does mean that it is only "natural" because you've been led to believe it is, despite the absence of an objective criteria.
In a nutshell,
'there are thousands of fitness programs and dozens of traditional physical disciplines out there, but only one original, evolutionarily natural human movement mode.'
… and it is to move naturally:  walking, running, jumping, crawling, climbing, carrying, throwing, and so forth.  If we were to invite a group of hunter-gatherers to visit a typical gym, they likely would be bewildered or even amused by the contrived patterns, routines, protocols and other fitness rituals being practiced.
Moving Naturally is Timeless
Moving Naturally has been a fitness "fad" for several millions of years; it is timeless.  A truly natural approach to fitness means taking an evolutionary approach to fitness.
This "evolutionary fitness" is practicing the full range of human evolutionary natural movement skills. Here, we mean physical activity based primarily on locomotive skills; secondly, on manipulative skills; and finally, on combative skills.

Of course, what we need is not a primitive approach to exercising, but instead, a thoughtful, effective, and scientifically valid fitness method involving all human evolutionary natural movement aptitudes.
There is within yourself an ancestral memory of movement that you can reawaken and that longs to be reawakened.
'Come train with us and learn to master the ancient biotechnology that your body represents.'
Have you experienced a reawakening of an ancestral movement memory? If so, how do you practice it?
Erwan Le Corre
Founder of MovNat and Master Instructor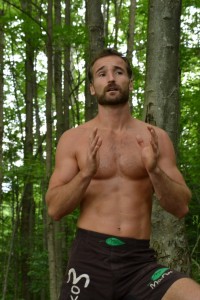 Copyright © 2012 MovNat
To stay informed about the upcoming release of the MovNat Book in 2013, subscribe to the True Nature Newsletter. Learn about MovNat Certification.
*the term natural is not regulated by the Food and Drug Administration (FDA)
Facebook Comments
comments