Combatives Certification – Vienna, Austria
Combatives Certification – Vienna, Austria
$1,120.00
5 in stock
MovNat Combatives: An Accelerated Self Defense Course for Improved Self-Confidence, Empowerment, and Skills You Can Use for a Lifetime
This special event will be taught by Vic Verdier, a MovNat Master Instructor, who has been training elite combat forces most of his life.
The Combatives Specialty Trainer Certification Workshop is a 2-day specialized training designed to provide the MovNat Trainer or fighter with all the tools necessary to teach or apply principles that can be utilized in any kind of self-defense and/or life-threatening situation, regardless of the environment or physical abilities. MovNat Combatives techniques can also be applied in the competitive arena as they increase efficiency in striking and grappling.
SCHEDULE
Saturday: 8am-6pm
Sunday: 8am-6pm
Please arrive at least 15 minutes early to prepare for each day's activity.
WHAT TO BRING
Training gear (shorts, T-shirt, minimal shoes) for indoors and outdoors.
Snacks, fluids, and lunch.
LOCATION
The exact location will be announced 4 weeks before the event
Testimonials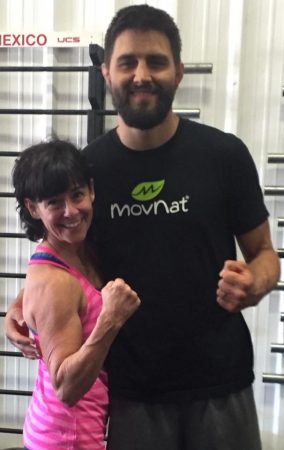 "I really encourage our MovNat women to register for Combatives training it is functional movements set into situation specific circumstances and if you have already trained at Level one or two or even taken a workshop you're going to be able to use everything that you've learned already. Vic is one of the best instructors I've ever had the opportunity to learn from and Carlos was present during my cert two years ago and he too, is an excellent instructor. It's an experience you won't soon forget, and that's the whole point… You won't forget." – Julie Beck (click here to read more of Julie's thoughts about MovNat Combatives)
"Unlike martial arts, the MovNat Combatives course is not something that needs to be practiced for many years before you can be competent enough to apply it…Anyone can take this course and receive massive benefit from it, whether it's mental (situational awareness), physical (movement skills), and/or emotional (self-confidence). Age, gender, and experience is irrelevant." – Nathan Amado (click here to read more of Nathan's thoughts about MovNat Combatives)
Frequently Asked Questions
Q: How is the MovNat Combatives course/philosophy different from martial arts?
​Martial Arts have evolved to become ​less in touch with the real-world, and more about tradition, particular styles, or sports-specialized competition. MMA is a return to the original roots of real-life fighting or self-defense, before martial arts became specialized. This being said, MMA is nonetheless a regulated sport that does not fully reflect the reality of the street or "real-world", precisely because of the specific rules of the sport that take away a number of variables and possibilities. The MovNat Combatives curriculum primarily resets the approach to understanding context, unleashing simple and instinctual physical and behavioral responses devoid of technique or rules, and finally, learning particular techniques similar to MMA to consolidate one's defensive arsenal.
Q: How does MovNat training prepare me for Combatives?
Generally speaking, good movers make great fighters. Whereas movement abilities are not the only aspect that matters in your ability to defend yourself – situational awareness and raw aggressiveness are actually more important – a better mover learns faster, moves faster, more accurately, more technically, more adaptively. The mental aspect of MovNat practice also supports alertness and responsiveness which are mental qualities essential to defending oneself. A MovNatter is more mindful, knows how to breathe and move in so many diverse ways. That's definitely a great start and advantage.
​Q: Do I need any experience of training in martial arts before I participate in a MovNat Combatives event?
Absolutely not. Anyone, from complete beginners who have never thrown a punch in their life to seasoned martial artists and MMA athletes can participate. That said, having a martial arts background is of course an extra asset. However, most martial artists will find that some of your training background is relevant, while other aspects will be useless.​
Q: How strong do I need to be? How do I need to train ahead of time to get the most out of it?
The short answer is that you don't need any training or to have achieved a certain fitness level to participate in a MovNat Combatives event. One of the reasons for this is because a lot of the strength you need in self-defense is mental. Of course, physical strength is also an asset. Plus, the ability to switch from a day to day mindset to an uninhibited, primal defensive mode where significant amounts of otherwise unsuspected strength can be unleashed, that's one of the primary teachings from this curriculum. ​So, one of the best things you can do to prepare is simply to keep training MovNat, which is inherently diverse and complete. That's some of the best preparation you can do for this course.
Q: Will I get hurt? Or, will I have to get hit? In the face? 
All training is done with protection to ensure everyone's safety. The worst case scenario is that you will get to hit your instructors in the face!​
Q: How much do I really stand to gain from just one weekend of instruction?
MovNat Combatives was designed as a single weekend "immersion" experience to develop a basic level of capability (rather than mastery, which takes several years at the minimum) and will provide you with life-saving principles, methods, and techniques you can use and refine for a lifetime. If you want to be better prepared to protect yourself and your loved ones now, this course will be exactly what you're looking for.
| | |
| --- | --- |
| Specialty Certifications | |
| Location | Europe |
| Month | April |
| Année | 2018 |
| Instructor | Vic Verdier |
| Levels | |