By Danny Clark, MovNat Performance Director
When you first start any practice, it's often helpful to have a target; a goal to aspire toward to help drive progress. That's why I've created six Natural Movement benchmarks for beginners. If your body is already in decent condition, give them a try and see how you do. If not, read through them and watch the videos to get a sense of what you are working toward. Then start your practice with one of our many resources.
BENCHMARK #1 – GET-UPS
Movements: Strength Get-Up + Tripod Get-Up + Cross Sit Get-Up
Volume (how many?): 1 per side of each sequence (5 reps for Cross Sit Get-Up), performed continuously
Intensity (with what weight?): Strength Get-Up w/ load in preferred position (shoulder or hand) 16kg for men; 12kg for women; Bodyweight for all others
Complexity (in what environment?): Flat, level surface of choice
Execution: Start from a supine lying position, work up to a standing position and finish back in a supine lying position for each sequence
Video Notes: I filmed my videos outside. I would recommend beginners use more simplified and softer surfaces.
BENCHMARK #2 – BALANCING
Movements: Balancing Walk + Pivot Reverse
Volume: 5 repetitions of walking the 2.5 meters on the board and then pivot reversing (2.5 m walk + 1 pivot reverse is one repetition) without stepping down
Intensity: Bodyweight only
Complexity: 3.5-inch width board (a "2×4") laid flat on a level surface. One unpracticed contextual demand added.
Execution: Start standing on the board, walk to the edge of the board, pivot reverse, and walk back to the starting point without stepping off. Repeat until all repetitions are completed
Video Notes: Again, I chose to work outside.  The balancing surface was wider, but rounded.  Feel free to explore these movement benchmarks in varying terrain that is equivalent or slightly greater in challenge.
BENCHMARK #3 – LIFTING + CARRYING
Movements: Deadlift + Carry
Volume: 5 Deadlifts, followed by a 20m waist carry
Intensity: approx. 1/2 bodyweight sandbag (or equivalent object) for men; approx. 1/3 bodyweight sandbag for women
Complexity: Flat, level, firm surface
Execution: Begin with the Deadlift repetitions until complete, then proceed to Lapping, then proceed to the Carry using an appropriate grip. Finish the waist carry by setting the bag down using Lapping and Deadlift techniques in reverse
Video Notes: I chose a really bulky object, and didn't walk as far as designated in the benchmark.  My grip capacity for that object just wasn't up to par that day. Even I need to continue to refine the basics!
BENCHMARK #4 – JUMPING
Movement: Downward Jump
Volume: 2 repetitions
Intensity: Half the height of the student (rounded up to nearest available box height) with a height/distance ratio of 1:1 (ex – 2m tall student = 1m height box with a 1m distance target)
Complexity: flat, level, firm, 8"x8" surface
Execution: starts standing and ends up standing after a 2 second established landing
Video Notes: If this height/distance ratio is too much, scale it down to ensure safety. 
BENCHMARK #5 – CLIMBING
Movement: Side Swinging Traverse
Volume: 2m down and 2m back
Intensity: Bodyweight
Complexity: 2.5-4.5 cm (1-2'') thick, smooth bar
Execution: Start from a dead side hang, then use the swinging traverse technique for the specified distance and finish hanging still before releasing the bar.)
Video Notes: My surface was much wider and really taxed my grip. For beginners, I'd recommend starting with something much more narrow to avoid excessive tension in the body.
BENCHMARK #6 – CRAWLING
Movement: Foot-Hand and Inverted Crawl
Volume: 2:00 minutes without rest or pause
Intensity: approx. 1 step per second
Complexity: 1 unpracticed contextual demand added
Execution: Starts and finishes in a Crawl position
Video Notes: Feel free to test your adaptability by adding obstacles, as shown in the video!
That's it! While viewing or trying these movements, remember that the first step in the MovNat method is creating effectiveness (ie, being able to do something), before moving onto efficiency (being able to do something with high performance/safety and low energy expenditure). So, wherever you are in your practice progression, make sure you are working toward baseline efficiency before jumping into more advanced movements.
Give these a try and use them to help inform your practice and get you to the next level in your Natural Movement journey!
Note: MovNat will soon be releasing a brand new e-course, MovNat Level 1 Fundamentals, which will be a great help to work toward and surpass these benchmarks. Make sure you're subscribed to the MovNat Email Newsletter and following us on Facebook and Instagram to get all the details and exclusive offers.


Get Started With Natural Movement Fitness – TODAY!
The MovNat Level 1 Certification is your entry point into the world's official Natural Movement Fitness program. It equips you with the knowledge, skills, and methods you need to transform your movement & fitness and build real world capability from the ground up.
Over the last ten years, MovNat has helped thousands of people from all walks of life restore their natural abilities and lay a foundation for a deeper, lifelong movement practice. We are the original, official, and only Natural Movement Fitness certification, with thousands of certified professionals and dozens of MovNat Licensed Facilities all around the world. Whether you're completely new to Natural Movement Fitness, or a seasoned veteran looking to expand your skillset, the MovNat Level 1 Certification is your launchpad to a deep understanding of natural human movement, how to integrate it into your training and lifestyle, and help others do the same.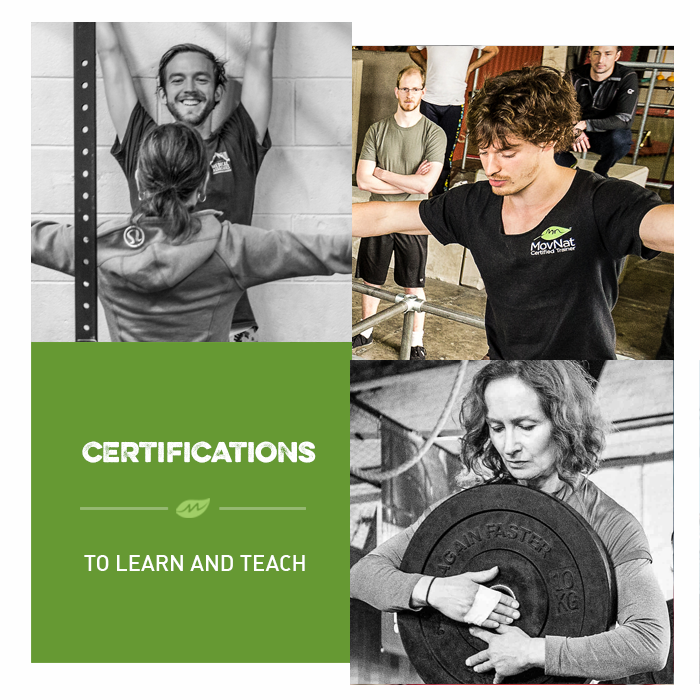 Check out our programs designed for professionals and serious enthusiasts who want to take their movement skills and fitness to the next level.
MovNat Level 1 Fundamentals E-Course (coming soon!)