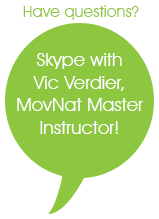 MovNat is the World Leader in Natural Movement Fitness, Education,  and Lifestyle.  Become a MovNat Certified Trainer (MCT), and join our community of natural human movement specialists all around the world!
Who is MovNat for?
The MovNat system is beneficial to everyone and will be both appealing to and effective for:
-the unfit individual who's looking for something more realistic and pleasurable than the Globo gym.
-the specialized athlete who wants to improve performance and prevent sport-specific injury.
-the CrossFitter who wants to broaden and improve their movement skills and attain greater levels of physical competence beyond general physical preparedness and conditioning.
-the amateur obstacle racer who understands technique is as important as conditioning and want to optimally prepare for the race.
-the parkour aficionado who needs direct coaching, or parents who want a safe environment and practice for their kids who want to do parkour.
-the elderly who want to be able to keep up with their grandchildren on the playground.
-the patient of physio and occupational therapy who wants movement that complements and supports treatment.
What you can expect to gain from the MovNat Certification:
Learn the only physical education and fitness system entirely based on the full range of natural movement skills.  The MovNat Certification covers Movement Efficiency Principles, 50 Fundamental Techniques in locomotive and manipulative skills*, safe and effective progressions, movement variations and drills, Coaching Movement Efficiency, MovNat programming for individuals, groups, and more.
Introduce a new philosophy and training methods to your clients that will engage their mind and challenge their body more than anything they have tried before.
Obtain the knowledge of how to do more with less equipment both in the gym and outside.
Separate yourself from your peers by holding one of the most unique and comprehensive training certificates available!