One-time 2013 Event with MovNat Founder, Erwan Le Corre, and the MovNat Certification Team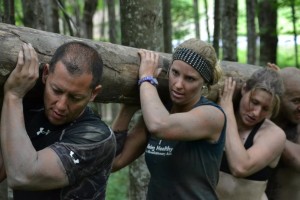 This 4-day workshop builds on the fundamental techniques and variations covered in the Level 1 and 2 certifications.  Level 3 techniques are more challenging, and demand more athleticism, physical ability, mental stamina, efficiency, and mindfulness. Upon passing, the Level 3 MovNat Trainer will have the tools to teach the complete spectrum of Level 3 techniques safely and competently in an indoor or outdoor environment.
 The 4 days are equally divided into teaching and active practice, with some lecture time providing a well-deserved rest to the participants. Training is conducted by MovNat founder, Erwan Le Corre, and the MovNat Certification Team.
Techniques covered include sprints and changes of direction, advanced vaults like the Inverted Vault, athletic climbing techniques like the Wrap-Around and the Muscle-Up, rope climbing techniques, like the Push-pull Traverse or the Hook-Swing Traverse, and of course, the lifting and carrying techniques that have made MovNat videos so popular, like log shouldering (one or several people), stone lifting, etc
For a more detailed list of the techniques covered in Level 3, please visit this page
Requirements to participate in this workshop and become certified as a Level 3 MovNat Trainer are:
hold current certification as a Level 2 MovNat Trainer
show proof of a CPR/1st Aid/AED certificate (less than 2 years),
study the online Level 3 certification curriculum (MCT Manual + technical videos)
pass the online Level 3 exam  within 30 days after the workshop  (you may also take it before the workshop)
Price: $1765
Currently, this is the only Level 3 Certification we are planning for 2013.  If you want to get your Level 3 Certification this year, book your spot soon, as you may have to wait until 2014 before it is offered again.