Seventy-five percent of the earth's surface is covered with water. With water being the prominent feature of our environment, Aquatics training necessarily becomes a key component of the MovNat curriculum.  MovNat is not only about moving safely and efficiently on land, but by necessity, in water, as well.  Ultimately, Aquatics training is an essential survival skill, but it's also just enjoyable and fun!
The Aquatics Specialty Trainer Certification Workshop is designed to provide the MovNat Trainer, over the course of a weekend, with all of the necessary tools to teach even the most inexperienced student an array of swimming techniques and how to navigate unconventional aquatic scenarios safely and efficiently.
Techniques and practices covered include: 6 different strokes adapted to the circumstances and environment, free-diving techniques and breath-holding optimization, rescue techniques for cooperative, non-cooperative, and unconscious persons, moving objects in the water, at the surface, underwater and out of the water, search and recovery techniques, etc.
You'll also learn practical tips to help people becoming more confident in the water, and how to make training sessions enjoyable regardless of the environment, the temperature, and the logistics. Applicable for small and large groups alike, this certification covers the tools, methodology, techniques and variations for MovNat in-water activities in pools, lakes, rivers or oceans.
The MovNat Aquatics certification course  is taught by Vic Verdier, MovNat Master Instructor. Vic has more than 18 years of experience  teaching and helping people in and around the water as a Free Diving Instructor, Scuba Diving instructor, Lifeguard, & Swim Coach.
The workshop is accessible to all, regardless of experience.  People who are not Level 1 MovNat Trainers can also participate in this workshop!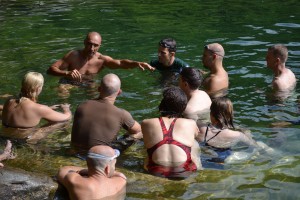 However the requirements to get certified as a MovNat Aquatics Specialty Trainer are:
to be certified as a Level 1 MovNat Trainer
to have a CPR/1st Aid/AED certificate (less than 2 years),
to pass the MovNat Aquatics test (rescue scenario, breathe holding for 1.5 minutes, teaching assignment, etc)
to be comfortable in the water (i.e., being able to swim at least 300m/yards and tread water for at least 5 minutes)
August 17th-18th 2013 – Austin, Texas
Price: $1240
Book your spot now. Space is limited.