Movement Highlight: Stepping Under
Posted | 3 comments
Hey MovNation people!
In the recent blog entry "You Are Meant To Shine" a combo-workout video titled "One Step At A Time" was shared with you.  Today I'd like to highlight some general pointers about efficiency in performing the second movement involved in the combo, stepping under.  First check out the video highlight in slow motion below.
Obviously about anybody could pass such a basic obstacle. In most cases though, you will see people bending over with a rounded back, holding their breath, tensing their whole body until they've passed to the other side after a few small steps, almost defeated, submitted by the challenge.
Notice how the movement is actually performed, with fluidity, grace and efficiency.   Let's understand how this basic movement can be performed not only effectively but also efficiently thanks to the following considerations:
First the orientation of the body.  There is enough space and width to allow the body to engage sideways instead of forward.  As the torso starts leaning forward, the front leg will extend sideways, and the front foot land on the other side.  This position and sequence will create a strong base of support across and underneath the obstacle, allowing the whole body to clear the obstacle in just one large, steady step, and a single rotation of the torso.
Secondly posture.  The spine remains optimally elongated (though the back can never be actually "flat"), the hips level with the head.  A good posture provides a mechanical advantage, allowing a fast and controlled circular motion of the torso.  While it would be possible to pass the same obstacle with a rounded back, executing the movement with a compromised posture will not bring any benefits in term of postural rehabilitation.  As a matter of fact, fitness and health don't need to be compartmentalized.  Probably the main reason why people need physical therapy is often due to a lack of natural movement in our daily lives.  It's a "use it or lose it" situation.  Movement itself can be an effective form of physical therapy if you simply, progressively, and mindfully reset the body in its original, natural movement mode.  But the reason why you want to perform the move with a good posture is not just because of its effectiveness in stretching and strengthening the back, and support the restoration or maintenance of a good posture altogether.  It's primarily about efficiency in adapting to the specific environment.  That's explained in the following point.
As you engage your body underneath an obstacle, one  primary concern is to avoid bumping hard into a surface that could hurt you, especially your spine.  It may not seem like a concern when training with a light prop simulating a natural environmental demand that can be easily toppled without harm, but think of passing underneath something much harder than your body.  With a rounded back, it is hard to have an idea of where your back is positioned in relation to the environment as you cannot see it.  That's quite a concern, especially for your spine as it is particularly exposed by a rounded posture.  While you may be attentive to not hurting your head, you may forget that your spine is exposed, and bruise it.  By keeping it elongated,  keeping your hips level with your head or slightly above, you will have a much more accurate proprioceptive awareness of where it is in relation to the environment:  optimally aligned with it, slightly below.  If your head passes first, you know your back and spine are safe.  Such awareness will allow you to perform the torso rotation very swiftly if needed, knowing that your back is protected by its position.  It is now easy to understand that the main reason for keeping your back straight when performing this particular movement is not just for a postural rehab concern, but actually for a pure practical purpose.
Breathing!  Again?  Yes again, and always.  An ample yet relaxed breathing from the abdomen should be constantly maintained.  Breath control will support good posture, relaxation, and focus, the same way a good posture will support effective breathing.  Breathing may not be perceptible from the outside as it is like an internal movement, but breathing efficiently is  certainly a fundamental skill that just like other movement skills must be mastered.  We're going to hammer that each time!
What else now?  Oh, relaxation.  While you need adequate tension, any part of your body that does not participate in the movement should be kept in a relaxed state.  Look at those arms, and how they remain relaxed.  Unnecessary tensions should be removed from your body.
So how do you make all this happen?  The answer is simple, it's called mindful practice.  Mindlessness is for a machine, and you are not a machine.  You are a complex, organic being capable of tremendous sophistication in movement, and at great levels of efficiency.  Natural human movement is innate, but efficiency in moving naturally is acquired through mindful practice.
Tomorrow I will highlight the leg swing jump.
Now you movnatters GO movnat…Vive La MovNation!
Erwan Le Corre
Founder of MovNat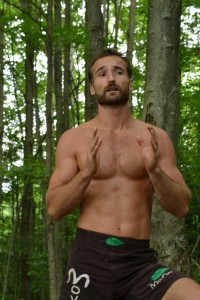 Want to join the MovNation?  Simply come back to movnat.com and get insights, tips and inspiration on a (nearly) daily basis.
Want to help the MovNation grow strong?  Share this with your family, friends, colleagues and neighbors, as well as on Facebook, Twitter, etc…,
Want to train MovNat first-hand with MovNat team instructors?  Click this link.
Want to train with MovNat Affiliates, Partners or MovNat Certified Trainers?  Click on the links.
Want to get certified and teach MovNat to the people who need to move naturally again, move more and move better?  Click this link.
Have questions about movement, technique, MovNat training and overall lifestyle?  That's what the MovNation Podcast is designed for!  Post your question(s) here.
Facebook Comments
comments