This time of year, many people pursue better health and fitness and fall short because they're going about it in an unsustainable or short-sighted way.
Here at MovNat, we believe fitness doesn't have to be a struggle. In fact, by simply focusing on improving your movement skills, you'll get more fit in the process. That's the power of moving naturally, practically, efficiently, and adaptively.
When you integrate natural movements into you're training and lifestyle, it builds a great body in the process. Our most experienced students exemplify this, and they also prove that very high levels of fitness comes in all shapes and sizes.
It's not the main focus of MovNat training, but it's one of the many benefits.
So, this year, we challenge you to move the way you're meant to – the way your body is designed to move (naturally!) – and watch what happens.
Note: This new, powerful video conveys the MovNat philosophy, approach, and many aspects of our unique training method in an inspiring and uplifting way. We hope you enjoy it as much as we enjoyed producing it!
Many people start experimenting with MovNat because they heard it was good for mobility, or balance, or reducing aches and pains (all true). Or, they get started simply because they're looking for something new or different to help them "get in shape."
Then they start practicing Natural Movement the way it was intended (i.e. "from the ground up") and begin to experience all kinds of other benefits they weren't expecting. Suddenly, they're doing things they never thought they could, and they begin feeling stronger and more capable than ever. And even though they're focused on learning and refining new movement skills, their body is changing, too (e.g. less body fat, more lean muscle, etc.).
These changes are exciting, but they are only the beginning. 
We hope you'll challenge yourself this year to begin moving the way your body is designed – with intention and for a greater purpose.
You'll quickly learn that Natural Movement is more than a fitness practice. It's a way of life. And the deeper you go, the more you'll get out of it.
If you're ready to embrace the "strong by nature" spirit and begin improving your fitness and natural movement abilities – no matter where you're starting from – the best way to get started is to find a MovNat event happening near you. Or, start working through some of the many free resources available on our website.

Get Started With Natural Movement Fitness – TODAY!
The MovNat Level 1 Certification is your entry point into the world's official Natural Movement Fitness program. It equips you with the knowledge, skills, and methods you need to transform your movement & fitness and build real world capability from the ground up.
Over the last ten years, MovNat has helped thousands of people from all walks of life restore their natural abilities and lay a foundation for a deeper, lifelong movement practice. We are the original, official, and only Natural Movement Fitness certification, with thousands of certified professionals and dozens of MovNat Licensed Facilities all around the world. Whether you're completely new to Natural Movement Fitness, or a seasoned veteran looking to expand your skillset, the MovNat Level 1 Certification is your launchpad to a deep understanding of natural human movement, how to integrate it into your training and lifestyle, and help others do the same.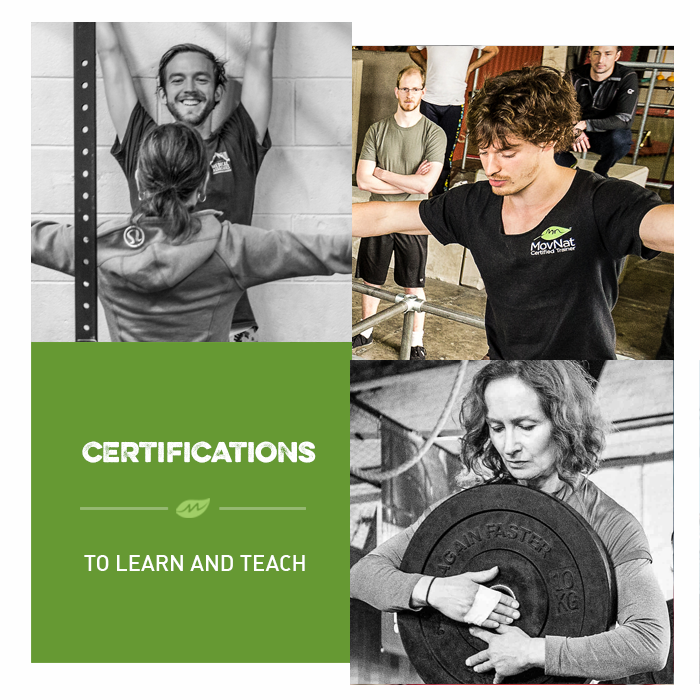 Check out our programs designed for professionals and serious enthusiasts who want to take their movement skills and fitness to the next level.