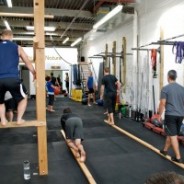 Welcome back MovNatters!  In this second installment of 'Why MovNat,' we're actually going to delve a little deeper and examine some of the supporting science, specifically motor skill classification within the task perspective of motor learning theory, and how it can help you to better understand the underlying constructs of the MovNat methodology and how it can make you a better mover.  Why should you care about becoming a better mover?  Remember, becoming a better mover translates into improved health and human performance by improving or removing some of the underlying physiological or biomechanical problems at the fundamental level that could be inhibiting progression.
Motor Learning Theory
Let's set the record straight; motor learning is not a term that represents a singular entity.  Motor learning involves perception and transferring those perceptions into actions and skilled behavior.  Motor learning also involves processing, motor control, motor skill acquisition, the ability to perform the skill under various conditions or contextual demands, and retention/memory of the acquired skill. Furthermore, performance of a skill is different from learning, and learning is different from memory. The performance of a skill typically refers to motor control issues: the execution of the task.  Motor learning, on the other hand, is a modification of the behavior by experience.  And finally, memory is the retention of these modifications.  Within the realm of motor learning exist several different types of learning, including adaptive learning, conditioned-associative learning, nonassociative learning, and skill learning.  All these types of learning contribute to the primary focus of this article, motor skill learning.
Motor Skill Learning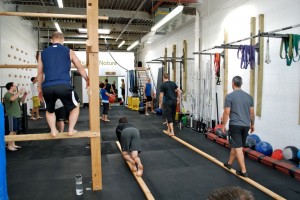 Motor skill learning is the formation of new or novel movement sequences (think MovNat Combo Workout) to gain speed, precision, accuracy, and efficiency in a given task.  It is the most complex type of motor learning because not only does it involve, to various degrees, some of the same mechanisms associated with other types of learning, but also additional mechanisms and neural structures that are required in order to acquire and retain the new skill.
Evidence suggests that acquiring a motor skill (learning) and retaining that skill (memory) are two different processes involving different neural mechanisms.  The enhanced motor performance that typically accompanies practice does not necessarily represent motor learning or transfer to memory.  To further muddy the waters, it is also important to keep in mind that although you might be able to enhance a motor skill with sufficient practice, without the ability to use the new motor skill or motor skill sequence in the context of a new situation or at a future date, you have not learned nor retained the skill.
Phases of Learning
Take a moment to think about a MovNat skill that you have recently acquired.  Do you recall progressing through phases of learning in order to master the skill?  I'm pretty sure that during the initial learning phase, it took quite a bit of concentration for you to perform the task.  This initial learning phase is known as the early-cognitive phase, and is distinguished by the learner engaging in "self-talk" as a way of talking himself/herself through the skills necessary to complete a
task, and is the hallmark characteristic of the beginner.  Once you felt relatively comfortable with the task, you likely began to experiment with different strategies for accomplishing this same task, and then comparing your results to previously employed strategies.  Based on your success or failure, you either adopt or reject the strategy.  This trial-and-error stage is the intermediate phase of motor learning.  And finally, once you have progressed through the rites of passage known as the early-cognitive and intermediate phases, you eventually enter "the zone," "the sweet spot," or what is technically known as the late-autonomous phase.  This phase is the hallmark of true skill mastery.  Once you have achieved skill mastery, you no longer have a need to try various strategies; you and your body know what works.  At this level of skill, increased practice will result in more fluid movement and the ability to react and adapt to complex environments and situations with greater ease and less conscious effort.
Task Perspective of Motor Learning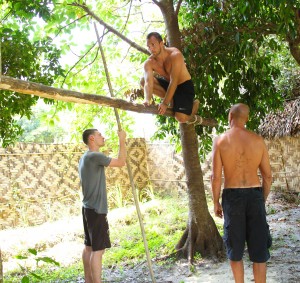 Further expanding on the 'how' and 'why' of MovNat, motor skills can be conceptualized in one of two ways: as a task or as a level of performance proficiency (the latter of which is the topic of a later installment in this series).  MovNat's movement skills are actually viewed in both ways, depending on the goal of coaching or the personal practice session.  In this week's installment, w
e will examine the task perspective of motor learning theory and how it is relevant within the constructs of the MovNat curriculum.
Task Perspective
One way to view the concept of a MovNat skill or technique is as an act or task.  The goal here is to determine prominent characteristics of motor tasks that movement practitioners can use to distinguish one task from another.  Three characteristics that have been used in the field of motor learning to classify tasks is to examine the way the task is organized (discrete, serial, and continuous), the relative importance of motor and cognitive elements in the performance of the task, and the level of environmental complexity or predictability surrounding skill performance.  In other words, taking these three characteristics into account, is the skill or technique at the beginner, intermediate, or advanced level?
Discrete Skills
The first scheme for skill classification concerns the way the movement is organized.  At one end of this classification system is the discrete skill, which is a task that is characterized by a defined beginning and end and that is often very brief in duration.  A good example of a discrete skill is one of the most fundamental skills in the MovNat curriculum, the vertical jump.  Discrete skills are prominent components of the MovNat curriculum, as well as within the context of many sports and games, especially those involving the distinct acts of hitting (defending/combatives), kicking, jumping, throwing, and catching.  So you see, if one of your goals or the goal of a client is to improve sport performance, doesn't it just make sense to incorporate MovNat training into your overall performance enhancement plan?
Serial Skills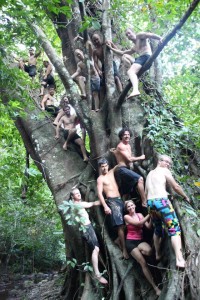 Sometimes discrete skills are combined to form more complicated actions.  These skills are classified as serial skills, suggesting that the order of the elements is in some sense crucial and dependent for successful task performance.  Take, for instance, a MovNat Combo Workout (MCW).  Each MCW is comprised of several (3-5) discrete skills that are to be performed in a certain sequence in order to accomplish an end goal.  Practical example, the task to accomplish is to get on top of a flat rock outcropping on the other side (from where you are standing) of a small ravine: broad jump across a small ravine to a basic forward roll (or general landing), followed by a running vertical jump to a climb up.  The task includes several discrete skills that are combined and must be executed in succession in order to accomplish the goal.
Continuous Skills
A final category of task organization involves movements with no definable beginning or end; referred to as continuous skills.  These skills are often repetitive or rhythmic in nature, with the ongoing stream of action flowing on for longer periods of time (i.e., many minutes).  Examples of continuous skills in the MovNat curriculum including swimming, running, and walking, with the duration of the activity not being dictated by a definitive beginning or ending, but instead, determined by either the performer or the environment.
Take-Home Message
Over the next couple of weeks try to give a little more thought into how you structure your personal MovNat sessions or those of your clients.  Is the focus on the development of discrete skills, serial skills, or continuous skills, and how does your approach to programming assist in the attainment of your or your client's goal(s)?  In the next installment of this series, we'll take a look at the MovNat methodology using two additional motor skill classification systems: (1) relative importance of motor and cognitive elements and (2) levels of environmental complexity and predictability.
Until next time, get out and MovNat!
Jamie