By Nathan Amado, Level 3 MovNat Certified Trainer

How about a challenging Natural Movement workout to help you up your game?
Here's an advanced level MovNat Combo Workout, which will give you some ideas for finding movement opportunities in the environment around you.
Instructions: If you'd like to replicate this workout as-is, repeat the following movements in a circuit fashion 3-5 times (i.e. one after the other with minimal or no rest), keeping your total training time under 20 minutes:
Tree Climb to Balancing Foot Hand Crawl
Vertical Press to Drop Landing
Running Vertical Jump to Rock Climb
Tripod Get Up to Balancing Walk at Height
One Handed Side Vault Down to Slap Landing
Running Leg Swing Jump to Depth Jump
Barefoot Run with Precision Stepping
Note: All of these movements can be scaled to your level with a little imagination.
As you can see, this workout involves many different movement skills: Crawling, Balancing, Climbing, Get Ups, Jumping, Vaulting, and Running. And the transitions between skills can happen very quickly.
MovNat believes in building Natural Movement skills From The Ground Up. We take a Crawl – Walk – Run approach to practice. First, you master the basic level skills in a controlled environment, then more difficult ones. And eventually, you can combine those skills and/or bring your training into a more natural or challenging environment (i.e. outdoors).
So, with practice, you can work up to advanced level combos like this one. And generally speaking, the more advanced the movement skill, the more benefits it provides – making these workouts super-effective for improving your fitness and capability. Plus, the more you master your movement, the more that your perception of your environment adapts, enabling you to get a good workout wherever you are.
Note: If you enjoyed this post, please share it with your friends and sign up for our newsletter. Also, check out the MovNat Youtube channel for more Combo Workouts (for all skill levels).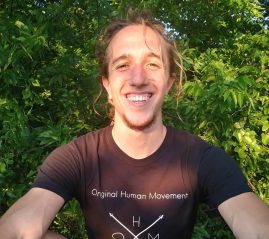 About the Author:
Nathan "Natural Nate" Amado is a MovNat Level 3 & Combatives Certified Trainer, Primal Health Coach, Brazilian Jiu Jitsu Purple Belt, The Human Path Scout, and the founder of Original Human Movement. He's committed to helping people become vital human beings so they can explore this world and live their best life without limitations. His motto: "You're a human, live like one!"
You can learn more about OHM here and follow on Facebook & Instagram.

Want to Learn How to Move Like This?
If you'd like to deepen your movement practice and learn more about Natural Movement Fitness, consider attending the MovNat Level 1 Certification or a MovNat Workshop. We hold events all around the world. Or, find a MovNat Certified Trainer or Gym in your area. We also offer MovNat Online Coaching as an alternative to live instruction.
Most people know that they should be more physically active. Some even recognize the incredible value in a system like MovNat. But they struggle with actually implementing natural movement into their daily lives.
That's why we work closely with people from all walks of life to help them move better, get healthier and stronger, and discover their true potential with natural movement fitness.
It's also why we work extensively with health and fitness professionals who understand the value of this new paradigm and are eager to start implementing it with their clients.
So, if you're ready to take your movement practice to the next level, this is your chance. Please join our community and check out an event near you soon.
Click Here to Learn More About the
MovNat Certification Program