Hey MovNatters! We're getting a TON of questions about our new e-course, MovNat Metabolic, which is a great problem to have! Obviously, we want as many people as possible to enroll in the e-course, but we understand that it may not be right for you. And that's totally fine! But we want to make sure the people who need it and want it most get it during our launch sale (35% off through Monday, June 22). So, we've put together a Q&A of the most common questions we've received these past few days. Let's start with an explanation from the e-course creator, Danny Clark, about what MovNat Metabolic is, who it's best-suited for, and how it's different from our other e-courses.

Why MovNat Metabolic?
By Danny Clark, MovNat Performance Director
Think back to your childhood for a moment and connect to the freedom you felt as you played and explored. What created that sensation; that feeling of boundless energy? While curiosity, wonder, and joy may have compelled you to move, I would argue the seemingly endless well of energy you had as a child was what we as adults call "fitness." The willingness you had to sprint, climb, jump, and engage in all forms of movement – especially Natural Movement – was at least in part a result of the humming energy pathways that fueled your instincts. So, the question becomes: How do we reclaim our authentic, child-like drive to move in order to live in our healthiest, best state as adults?
One path is to focus on joint restoration and skill development in order to make moving require less energy, feel pain-free, and impart less risk of injury. The increased fitness becomes a "side benefit" as your practice gradually expands and becomes a part of your life. We created our first e-course, "Natural Movement Fundamentals" for those who require a slow learning progression from joint focused to whole system, integrated Natural Movement. We created our next e-course, "Level 1 Fundamentals" for those who want to go further by developing foundational, integrated Natural Movement skills and practical fitness symbiotically through a balance of learning and doing.
Our newest offering, "MovNat Metabolic," offers another path for those ready to embark on or deepen their Natural Movement practice. Its focus is on fitness development for the purpose of re-building your energy production pathways and overall movement conditioning. The increased skill that is always emphasized in MovNat becomes something that further enables your ability to move safely and perform tasks more easily and efficiently. The fitness focused path found in this e-course is for "doers" out there, as well as anyone ready to step up their conditioning and overall capability – including seasoned movement practitioners.
MovNat Metabolic is another "fundamental" e-course, as it utilizes foundational natural movements in a format and dosage that builds baseline strength and conditioning. We created this product to better serve the diverse needs of our students and professionals, and offer more paths into the Natural Movement practice and lifestyle. Its programming (3 session per week for 8 weeks) and friendly follow along format is for anyone who wants to transition to a fitter, healthier state. It's also for anyone who wants to reap some of the proven physiological benefits that accompany increased fitness, including:
Reduction of superfluous adipose (fat) tissue (although "ideal" or "healthy" levels depend on the individual)
Addition of muscle tissue (although that is not the focus of the program, some may gain muscle)
Improved structure, function, and growth of the vascular system
Increased bone mineral density
Improved connective tissue structure and function
Increased CNS efficiency
Like all of our current e-courses, MovNat Metabolic is for anyone and has no prerequisites. Though the intensity of this program is greater than our other offerings, we carefully thought out every detail to ensure it's accessible to all ages, fitness levels, and abilities; basically, anyone who is ready to live a more movement-rich life. The included Movement Library is comprised of our most foundational, yet potent natural movements for fitness development, and also includes key technique tips to help you maximize your results and minimize the risk of injury. The program ramps up in intensity slowly over the course of each session, and the program as a whole starts slow and progresses at an intuitive pace.
While other paths or e-courses may better serve your specific needs, MovNat Metabolic is a great option for those who feel ready to focus on the fitness aspect of their Natural Movement practice. – Danny
Click here to learn more about MovNat Metabolic

Frequently Asked Questions
What is the difference between MovNat Metabolic and our other e-courses?
There are many significant differences stemming from the fact that MovNat Metabolic is an action-oriented, purpose-driven e-course to help you achieve the specific objective of better health, fitness and body composition. So, there's very little focus on teaching about the big picture of Natural Movement. Instead, MM is a simple follow-along exercise program focused on fitness first, and movement skills second – and doing the work to help you transform your body MovNat-style. At a fraction of the price of our other e-course offerings, it's also our highest value e-course and a great entry point into the MovNat system for people who are looking for an affordable alternative to conventional exercise.
What exactly will I receive when I order?
You will receive instant access to the whole program via a private e-course portal, which contains all the course materials. This includes all six MovNat classes (follow along videos), 20 movement instructional videos, warmup and cooldown instructional videos, a training guide (e-book), and other supplementary materials to help us serve you better. In total, there is roughly 4 hours of footage in this course.
What Natural Movement skills will I learn?
You'll learn several natural movements from the following domains: Breathing, Ground Movement, Get Ups, Crawling, Balancing, Gait, Jumping, Lifting, Carrying, Throwing, and Climbing.
What if I'm old, out of shape, injured, or can't perform some of the movements?
This course was designed to be accessible for all fitness levels, ages, and abilities. In fact, it's very well suited for those who don't consider themselves "exercisers" and/or are looking for a totally different perspective on movement and fitness. This course is truly for everyone since Natural Movement is the base of ALL movement. So, even if you're old, overweight, out of shape, and totally inexperienced with Natural Movement, if you're healthy enough to exercise, you can use this program.
Do I need any equipment?
You'll need a few things to get the most out of it: some open floor or ground space, objects to lift and carry (light to moderately heavy loads, e.g. backpack, kettlebell, etc.), a surface for climbing (e.g. pull-up bar or tree branch), a surface for balancing (e.g. 2×4 board or tape on the floor), and a surface for jumping up and down on (e.g. box, sturdy furniture, etc.).
How long does the program take?
This e-course is designed to be completed over eights weeks, and repeated as your skill and fitness improves. Each class lasts for roughly 30 minutes, with additional time recommended for warmups and cooldowns. For the first week or so, you may need a little more time to review the instructional videos and practice the movements, but your total training time should be less than 45 minutes per session, three times per week.
Will this actually help me get in shape?
It depends on what you mean by "in shape." But you can bet your boots it will provide the necessary stimulation for fat loss, lean muscle gain, increased mobility and flexibility, and cardiorespiratory capacity, among other body composition and conditioning adaptations. And we think you'll know how powerful this program is after your very first session; and especially as you transition into Month 2, where the intensity increases substantially. That said, it's all about what you put into it. The harder you work, the better your results. So, please use the Training Guide to adjust the program difficulty based on your current fitness level and desired goals. And if you need some extra help, we're here to help you get it just right.
How long do I get to keep the program?
Your enrollment includes lifetime access and lifetime updates. So, you can enroll today, get started whenever you're ready, go through the program at your own pace, and repeat the course as many times as you'd like.
What if I'm unhappy with this course?
We have a 30-day money back guarantee policy. So, if you're not happy with your investment, contact us ([email protected]) within the first 30 days of your purchase and we'll send you a full refund.
What's the deal with the special offers?
The e-course is on sale for 35% off until Monday, June 22, 2020 at midnight (HST). This discount is applied during checkout – no coupon code is needed.
Also, if you enroll during the launch sale, we'll send you a coupon code for 15% off any MovNat certification course and/or $100 off our MovNat Level 1 Fundamentals e-course.*
Still not sure if this course is right for you? We made a video to help you figure it out. Scroll down a bit on this page to watch it.
Click here to learn more about MovNat Metabolic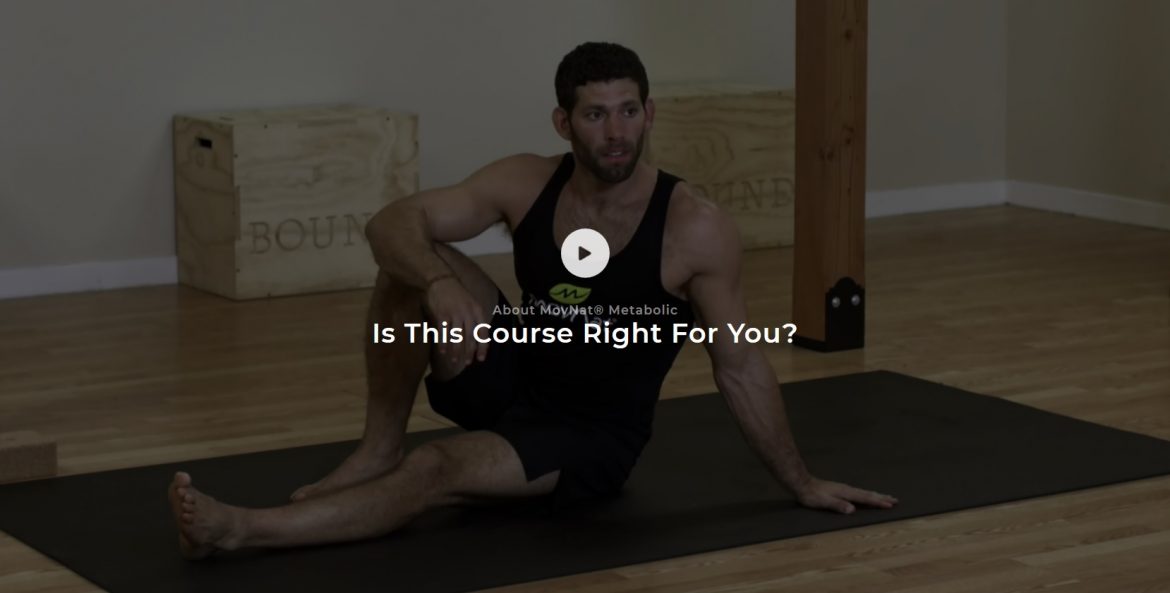 *This special offer is subject to limitations (e.g. cannot be combined with other offers, coupon codes, etc., and L3 certs are not eligible for this offer).