This sale has ended.
Now through Monday:
Huge Savings on MovNat Courses!
We've got a whole lot of goodies for you this week (see special offers below). But if you just want to shop courses and save big…
Use coupon code: ForceOfNature to save on MovNat Events and E-Courses!
See below for additional special offers.

Dear MovNatters,
Our mission is to help you self-empower through the practice of Natural Movement. As you do, you start becoming a Force of Nature; someone who exhibits strength, power, and grace in ALL that you do – not just movement!
Spending time in nature, moving, exploring, and challenging yourself is one of the best ways to discover and start cultivating this "inner fire" all humans possess. As your physical capability and confidence increases, so too does this natural force inside you.
So, how do we cultivate and harness this energy? Well, you probably guessed that we believe a big part of the solution is movement.
You see, natural movements like crawling, jumping, lifting, and climbing aren't just practical skills our ancestors needed to survive or "good exercises" modern day humans benefit from. These movements and the method behind them are tools for self-empowerment so that ultimately, you can live a long, healthy life the way you want.
Many people who begin MovNat find that as you pursue physical goals (e.g. better mobility, healthier weight, more strength, skill, etc.), you discover a strength within yourself that helps you overcome fear, frustration, failure, and other internal struggles you may have dealt with all your life.
In other words, many folks come to MovNat for the cool moves or the nature connection, but they stay because they're becoming the kind of person they've always wanted to be. Someone who is strong, capable, healthy, happy, and free…
…which is how life is meant to be!
When you change how you move, it changes how you think. And how you see the world. Which, in turn, changes your life. And not because the MovNat method is so great, necessarily. I mean, we think it's awesome. And we do our best to keep making it better year after year (big curriculum updates are in the works!).
But when you begin your MovNat journey, personal transformation is inevitable because you get a tested-and-proven method to improve your movement skills, fitness, and real world physical capability…
…which leads to self-empowerment. Every. Single. Time.
(Seriously. Have you seen all the MovNat success stories?)
We want as many people as possible to experience this for themselves. Because we know how good it feels. And we believe this is one small way we're helping make the world a better place – one changed life at a time.
This week, we're putting all MovNat certifications, retreats, and e-courses on sale to help you become a "Force of Nature" using your Natural Movement practice as a vehicle for personal growth. We know this could be the start of something BIG for you. And we hope you'll take us up on the opportunity to save some money as you invest in yourself.
We can't say it enough. We are so thankful for each and every one of you. You're the reason we get to do what we love: teaching and empowering people to explore their true nature through Natural Movement Fitness.
So, you'll find some special offers listed below, with our thanks. We hope you'll take advantage of them as you take the next step in your MovNat journey.
Here are the details…

20-45% Off Certifications & Retreats
Save 20% on all MovNat Level 1 Certifications, Level 2 Certifications, Level 3 Certifications, Combatives and Aquatics Specialty Certifications, Educator Certifications, MovNat Medical events, and our Retreats. That's up to 45% off the normal price when you factor in sale and bundle pricing on some events!
Note: higher discounts are available for couples and groups. Email [email protected] for a special coupon code.
USE COUPON CODE: ForceOfNature (expires Monday at midnight, HST)
Click Here to Find an Event Near You

20% Off All MovNat E-Courses
MovNat Level 1 Fundamentals: Build Your Movement and Fitness From the Ground Up
MovNat Level 1 Fundamentals is our official "flagship" online educational course to help you begin your journey into Natural Movement® Fitness.
This course is the ultimate resource for making your fitness and movement development a regular part of your life and a natural expression of who you are. Transform your body through these structured classes as you discover a new, fresh perspective on movement and fitness.
*Use coupon code ForceOfNature to save 20%!
MovNat Mobility: Give Your Body the Freedom to Move Well for a Lifetime
MovNat® Mobility is a revolutionary four-week program that uses simple, practical movements to build your range of motion, motor control, and coordination so you can gain the freedom and power to move with ease and confidence.
MovNat Mobility will help you:
Learn the fundamentals of restorative movement
Build your mobility from the ground up
Give your body the freedom to move well for a lifetime
*Use coupon code ForceOfNature to save 20%!
MovNat Metabolic: Build a Leaner, Stronger, and More Capable Body with Natural Movement
MovNat Metabolic is an 8-week online training program that uses natural movements and science-backed exercise protocols to help you get leaner, stronger, and build real world fitness…naturally!
This program will support key body composition changes, such as:
Reduction of superfluous adipose (fat) tissue (although "ideal" or "healthy" levels depend on the individual)
Addition of muscle tissue (although that is not the focus of the program, some may gain muscle)
Improved structure, function, and growth of the vascular system
Increased bone mineral density
Improved connective tissue structure and function
This e-course is the ultimate resource for not only making rapid body composition changes and improving your health overall, but also for improving your Natural Movement skillset so that you can engage with the world more easily, effortlessly, and with more joy.
*Use coupon code ForceOfNature to save 20%!

Natural Movement Fundamentals: Restore Your Movement Skills and Fix Your Weakest Links
Natural Movement® Fundamentals is an online educational course that uses rudimentary natural human movements to help you move better.
This course is the ultimate primer to restoring your body and building your Natural Movement® practice "from the ground up." No matter your experience level – from total novice to experienced mover – you will learn a lot about your body and move much better as a result of taking this e-course.
*Use coupon code ForceOfNature to save 20%!

MovNat Mobility Advanced: Take Your Mobility to the Next Level
MovNat® Mobility Advanced is an in-depth program built with both simple and complex natural movements that can be used to unlock deep levels of mobility, flexibility, and strength.
MovNat Mobility Advanced will help you:
Take your base level of mobility to the next level
Learn advanced strategies to rapidly improve your mobility and get results that last for a lifetime
Become not only more flexible, but also more coordinated, controlled, and capable in life
*Use coupon code ForceOfNature to save 20%!
Still not sure which e-course would be right for you?
Check out our handy MovNat E-Course Comparison Guide.

Doorbuster: Get a FREE Consultation with a MovNat Team Instructor!
We want to reward those of you who take action immediately. So, if you sign up for a MovNat certification event or retreat before midnight EST on Thursday, June 30th, we'll give you (1) free 30 minute video consultation with a MovNat Team Instructor to discuss any topic you'd like.

Get $65 of FREE MovNat x Venum Apparel!
If you sign up for any MovNat event* during the sale period between June 30 – July 4, 2022, we'll send you a coupon code for $65 of free MovNat x Venum apparel.
*Elements 1-Day workshops are not eligible for this special offer.

Win a FREE MovNat E-course of Your Choice!
If you make any purchase on MovNat.com during the sale period between June 30 – July 4, 2022, we'll enter you into a random drawing for a chance to win a free MovNat E-Course of your choice.

Upcoming MovNat Retreats

These special offers expire on Monday, July 4 at midnight (HST).
Most of the events on our calendar will NOT be going on sale again, and some are very close to selling out. So, if you've been thinking about investing in a MovNat course, take advantage of these deals today! The sale ends on Monday!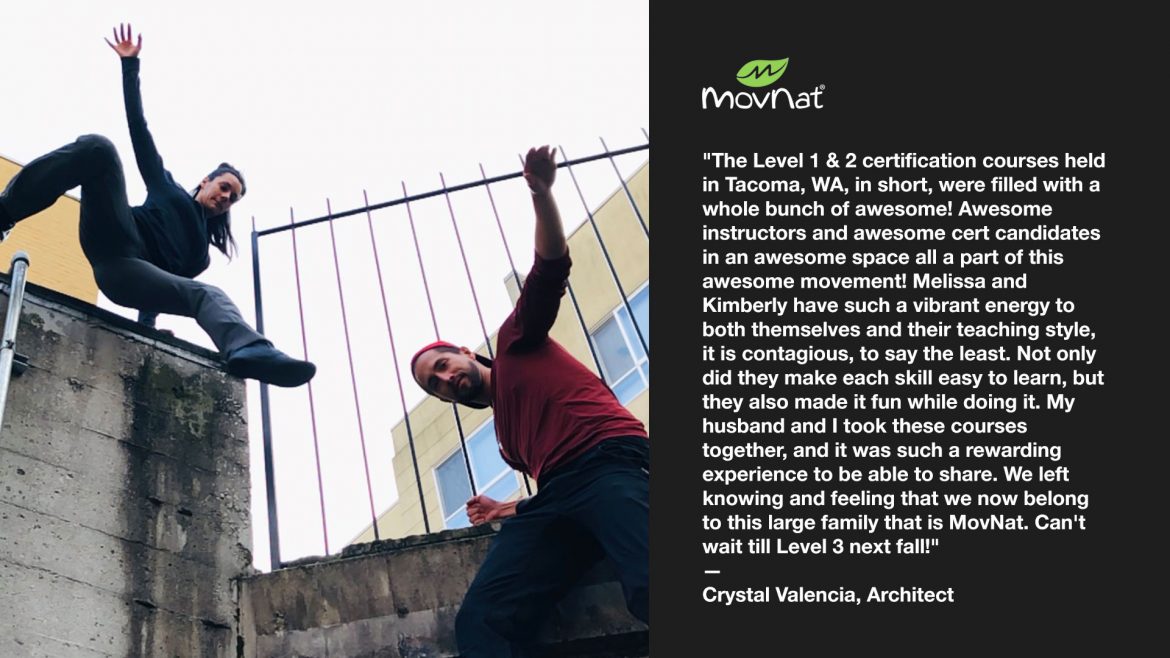 Is a MovNat Event Right For You?
Whether you attend a MovNat certification, workshop, retreat, or specialty course, you'll be rebuilding and refining fundamental movement patterns that most modern humans have lost, using MovNat's "from the ground up" approach.
The details of our curriculum vary depending on the type of event, but in general, you will…
Learn MovNat's unique approach to developing movement skill and improving fitness at the same time.
Experience "real world fitness" through natural movement-based training, to increase your health, fitness, mobility, and conditioning every time you practice.
Receive safe, step-by-step progressions for all ages, abilities, and fitness levels.
Learn fundamental Natural Movement® techniques that will turn you into a skilled and confident mover.
Learn the subtle nuances of movement, including a great emphasis on mindfulness, efficiency, and adaptability to help you master your movement at a deeper level.
Acquire a wide repertoire of movement variations and drills you can practice anywhere, with or without equipment.
Learn the essential MovNat principles to enhance your understanding of movement and keep making progress after the course.
Learn how to incorporate MovNat into your existing fitness routine, at-home practice, or busy lifestyle.
Connect with like-minded people from around the world!
What's included:
At our Workshops, Retreats, and Certifications, you will learn dozens of techniques to help you become a capable, confident mover, such as:
Ground Movement (lying, rolling, crawling, sitting, kneeling and get-up techniques)
Gait Movement (walking and balancing variations, technical stepping, and running techniques)
Airborne Movement (jumping and vaulting techniques)
Climbing Movement (on narrow vertical and horizontal surfaces, walls, etc.)
Manipulative Movement (e.g. lifting, carrying, throwing, catching, etc.)

Wondering what MovNat can do for you?
What Our Students Want You To Know
Here are some messages we've received from our students!
"MovNat helps keep me injury and pain free. My patients love the exercises and it really helps with injury rehab. MovNat keeps my exercise fun and interesting!" – Steven
"MovNat has made me physically and mentally stronger, but the biggest change in my life is that it has given me more confidence not only when training, but confidence in my own body in many different situations." – Sara
"I attended the movnat level 1 and 2 cert. And also the immersion event in VT. Movnat's philosophy and movements has given me a new set of lenses in perceiving fitness and living. I'm armed with about 30 different ways to sit and get up and the nature is not a no trespassing zone anymore but a place where I can go to, for adventure or peace." – Harry
"Real world movement. Allowed me to play like a child again. I missed that so much. Now at age 50 I'm rolling jumping and playing with my kids like a kid. My clients can see how I can make movements effortlessly and are encouraged by that. I have had a series of quite serious injuries and Movnat allowed me to expose those limitations through sequenced movements. I am still improving and moving better." – Liam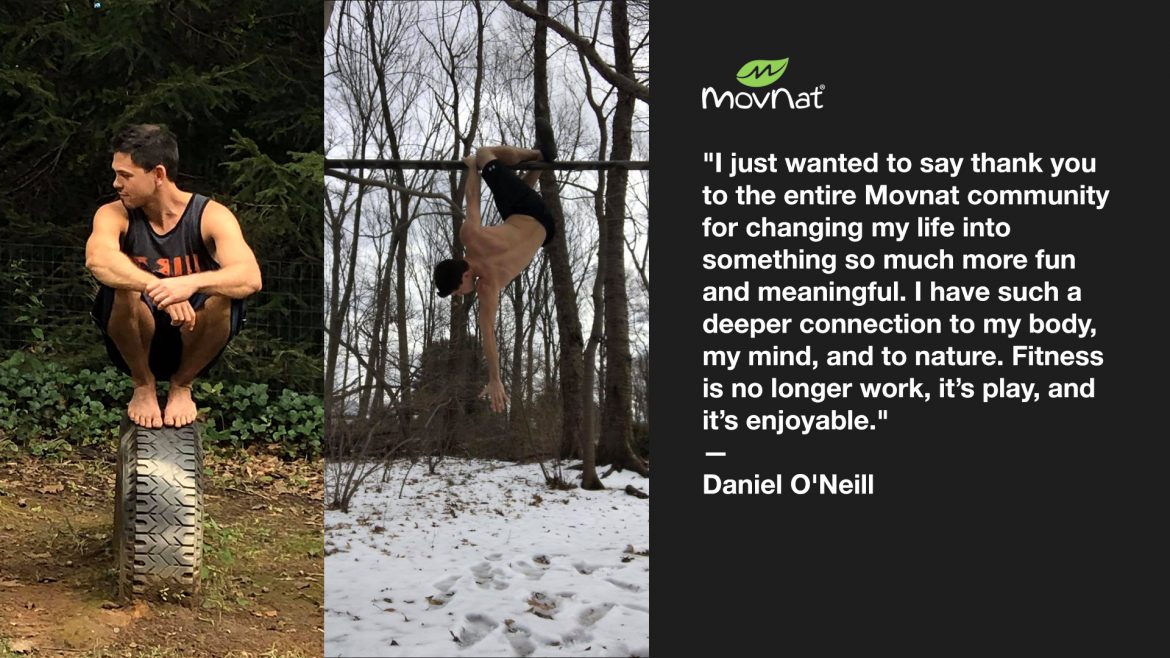 "I have used MoveNat to help bring back some fun to my training and help me recover from a herniated disc in my neck. I'm a coach and PE teacher as well and have used some of the movements with students to help improve their movements." – Rob
"MovNat has completely flipped my movement philosophy on itself. I was limited before to four walls and typical gym equipment. I was boxed in…MovNat has transformed my exercise into a true movement practice where skills are practiced for the sake of becoming more competent and moving through my environment with more mastery. MovNat has rejuvenated the joy of moving." – Alicia
"MovNat is now a life long pursuit of mastery in my life. It's helped me mentally in my ability to focus, deal with stress, and be present in other areas of my life. It's helped me re-find my passion for movement that was lost in the traditional world of fitness. I get to share something exciting and fun that will be a lifelong pursuit and benefit them beyond weight loss or being in shape. I have some great relationships from being involved with MovNat." – Brian
"I've been pain free for 2 years since working out using Movnat principles…I've seen the benefits in my clients since day 1." – Nicole
What to Expect at a MovNat Course
(A Life-Changing Experience)
"MovNat has transformed all components of my life and everyone I interact with. It is so much more then a training system… It is the key that unlocks the door to absolute freedom! I can never be more thankful to you for exposing me to what goes so much farther than movement restoration." – Anthony
"It's changed my life. It's changed the way I move, train, think." – John
"It has allowed me to heal a lot of the damage inflicted by mainstream western society on my perception of self. My body, its functions, limits and appearance has always been judged, scrutinized and held up to these fabricated standards of fitness and beauty and failed. MovNat has given me the tools to see through these standards, come closer to myself and the understanding that my body is perfectly functioning as is and challenge in a way that it was meant to be challenged in order to prosper." – Joy
"I was never a very fit or strong kid and as I have worked to get in the best shape I have ever been in now (my thirties) it is very gratifying to be able to be able to go outside and "play" in the way I have always wanted to. Trees and ropes are no longer scary challenges, but fun tools that I can use to get stronger and, more importantly, have fun." – Jonathon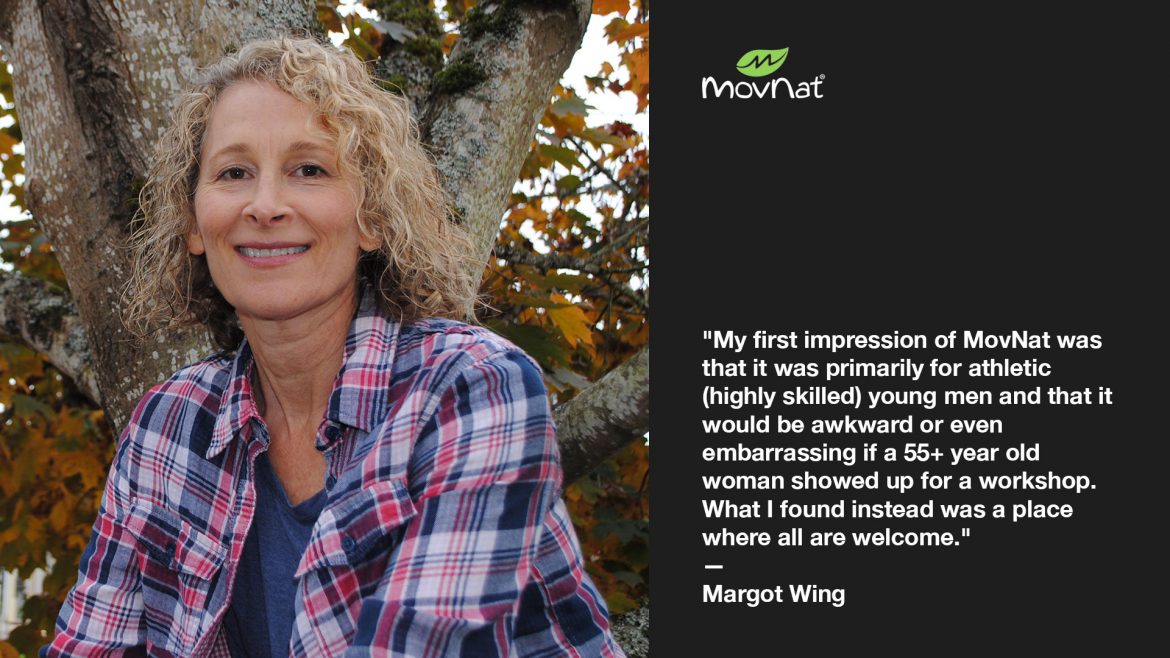 "I love that I can practice Movnat every day, every where. No special equipment necessary. Love the spectrum from new beginner friendly to advanced high level. Always room for development, and to overcome mental barriers without competition. The Movnat family is very supportive and friendly. And it is not as much a work out as it is a way of living. My body and mind getting stronger and more functional every day." – Elisabeth
"MovNat reinforced my love of interacting with the environment, greatly expanded my vision for how to do so, and provided me with a completely new structure for how to train and how to do so progressively and safely." – Andrew
"I just wanted to say a big thank you for the workshop – I'm so glad I got that last minute spot! It was such an inspiring weekend and much needed for me right now – I've been in a bit of a training rut and this totally pulled me out of it, renewed my confidence and made me super excited to try some new types of training. I feel a bit clearer on the direction I want to go now…Great teaching – everything flowed perfectly. Huge respect for what you guys are doing – can't wait to practice and learn more!" – Emma
"To this day, the L1 Cert is still the greatest Continuing Education event I've ever attended, and the most impactful!" – Lee
Whether your goals are to improve your movement skills, have more fun when you train, recover from injuries, or increase your real world competence and confidence, MovNat can help.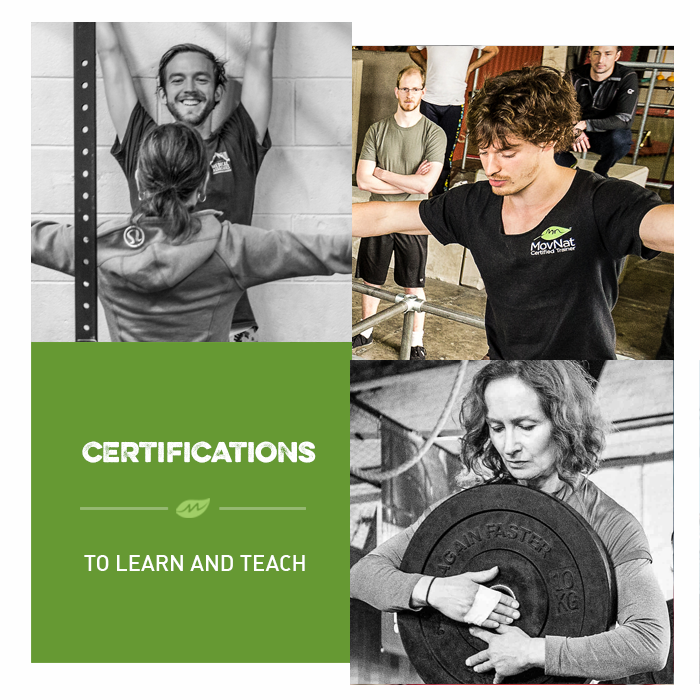 About Our Certifications: Geared for professionals and serious enthusiasts who want the full experience, the MovNat Certification is the industry standard for Natural Movement® Fitness, in which you will delve into the philosophy, practice, and principles of MovNat so that you can go deeper in your movement practice and help others do the same.
Click Here to Find a Certification Near You

No time to be on the fence
If you're ready to become a "Force of Nature" and experience big changes to your movement, fitness, and life in the coming year, now is the time to take action!
USE COUPON CODE: ForceOfNature to save 20% on all Level 1 Certifications, Level 2 Certifications, Level 3 Certifications, Combatives and Aquatics Specialty Certifications, Educator Certifications, MovNat Medical Events, Retreats, and MovNat E-Courses. That's up to 45% off the normal price when you factor in sale and bundle pricing on some events!
Some of our events are right on the verge of selling out, and it may be awhile before we return to those places.
So, if you want to take your Natural Movement practice to the next level, and explore your true nature (and your true potential when you tap into that nature), this is the best time to act.
Make a decision to take the next step in your fitness and movement journey and sign up for a MovNat event TODAY. We've got over 125 upcoming events in dozens of locations around the world…
Level 1 Certification – $1,350 $864!*
Level 2 Certification – $1,250 $784!*
Level 1 & 2 Bundle – $1,850 $1,480
Combatives Certification – $1,250 $1,000
Aquatics Certification – $1,450 $1,160
Level 3 Certification – $1,550 $1,240
MovNat Foundations Retreat – $1,150 $920
Reconnect Retreat – $1,350 $1,080
MovNat Survival Retreat – $800 $640
MovNat Crucible Retreat – $800 $640
MovNat Medical – $900 $720
MovNat in Schools Educator Certification – $500-800 $400-640
1-Day Elements Workshop – only $199! (no coupon code needed!)
*When combined with early bird pricing.
Some of our events were filling up fast even before this sale started. So, don't wait any longer! Make a commitment and sign up for a MovNat course TODAY before more of our events sell out.
Or, get started at home with one of our e-courses at a 20% discount:
The coupon code will deactivate on Monday at midnight HST. So, take advantage of these special offers while you still can!
A firm decision today could save you hundreds of dollars on MovNat training.
Thanks again for your support! It is truly a privilege to serve you, and we're looking forward to helping you on your MovNat journey.
-The MovNat Team
P.S. Hurry! The "Force of Nature" Sale ends soon!

Upcoming Level 1 & 2 Certifications in North America
Flint, MI – L1 Cert – L2 Cert
Boston, MA – L1 Cert
Albuquerque, NM – L1 Cert – L2 Cert
Denver, CO – L1 Cert – L2 Cert
Asheville, NC – L1 Cert – L2 Cert
Chicago, IL – L1 Cert – L2 Cert
Seattle, WA – L1 Cert – L2 Cert
Warwick, RI – L1 Cert – L2 Cert
Miami, FL – L1 Cert – L2 Cert
Mexico City, Mexico – L1 Cert – L2 Cert
Cancun, Mexico – L1 Cert – L2 Cert
Houston, TX – L1 Cert – L2 Cert
San Francisco, CA – L1 Cert – L2 Cert
San Diego, CA – L1 Cert – L2 Cert
Salt Lake City, UT – L1 Cert – L2 Cert

Click here to find more events in North America.

Upcoming Level 1 & 2 Certifications In Europe

Berlin, Germany – L1 Cert – L2 Cert
Westport, Ireland – L1 Cert – L2 Cert
Biarritz, France – L1 Cert – L2 Cert (SOLD OUT)
Reading, England – L1 Cert – L2 Cert (SOLD OUT)
Breda, Netherlands – L1 Cert – L2 Cert
Bern, Switzerland – L1 Cert – L2 Cert
Madrid, Spain – L1 Cert – L2 Cert
Ghent, Belgium – L1 Cert – L2 Cert
Lyon, France – L1 Cert – L2 Cert
Munich, Germany – L1 Cert – L2 Cert

Click here to find more events in Europe.

Upcoming Level 1 & 2 Certifications Around The World
Sydney, Australia – L1 Cert – L2 Cert
São Paulo, Brazil – L1 Cert – L2 Cert
Johannesburg, South Africa – L1 Cert – L2 Cert
Wellington, New Zealand – L1 Cert – L2 Cert
Haifa, Israel – L1 Cert – L2 Cert
Chon Buri, Thailand – L1 Cert – L2 Cert
Tokyo, Japan – L1 Cert – L2 Cert
Melbourne, Australia – L1 Cert – L2 Cert
Vina del Mar, Chile – L1 Cert – L2 Cert

Click here to find more events around the world.

Special Events
MovNat in Schools Educator Certification
Albuquerque, NM
MovNat Medical: Clinical Applications of Natural Movement
Albuquerque, NM
Richmond, VA
MovNat Combatives Certification
Seattle, WA
Marseille, France
MovNat Aquatics Certification
Marseille, France
Level III Certifications
Denver, CO
Vienna, Austria
Melbourne, Australia
Retreats
MovNat Foundations Retreat (Costa Rica)
Reconnect Retreat (Zafra Nature Reserve, Colombia)
MovNat Survival Retreat (Conifer, CO)
MovNat Men's Crucible Retreat (Embudo, NM)
LatAm Reconnect Retreat (Zafra Nature Reserve, Colombia)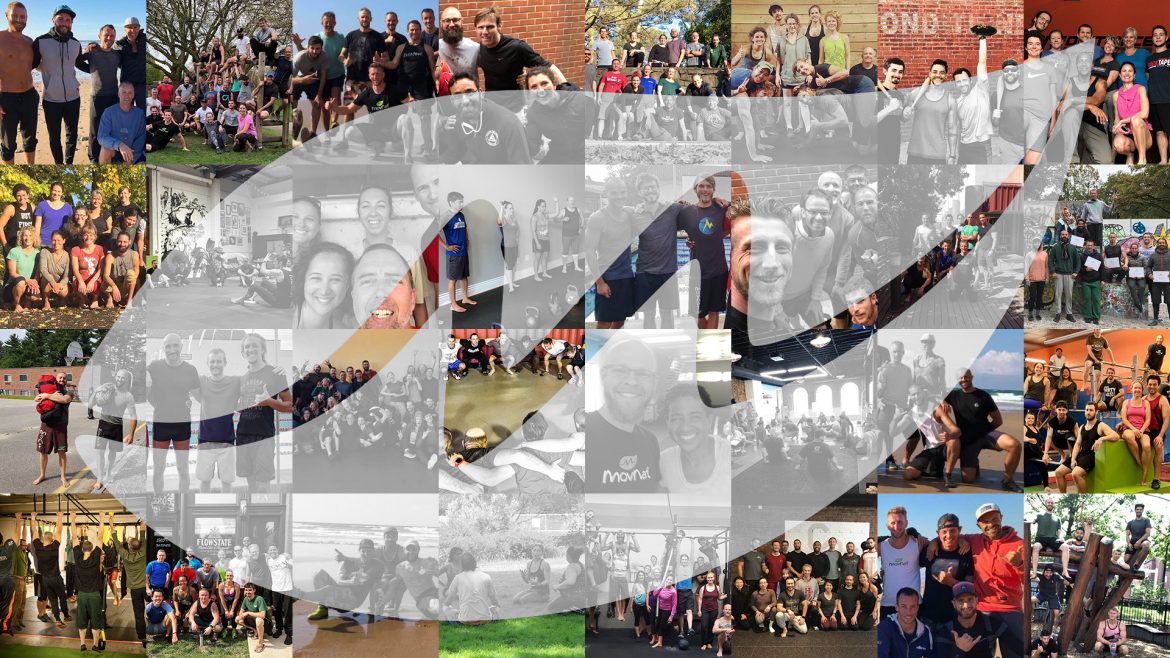 Will you be our next success story?
"There is nothing that I have ever experienced that is like a MovNat workout and the results of MovNat. MovNat has changed my life." – Tommy
"MovNat has help me to lose and keep off over 25lbs, and encouraged me to look for other ways to make positive changes in my life." – Chris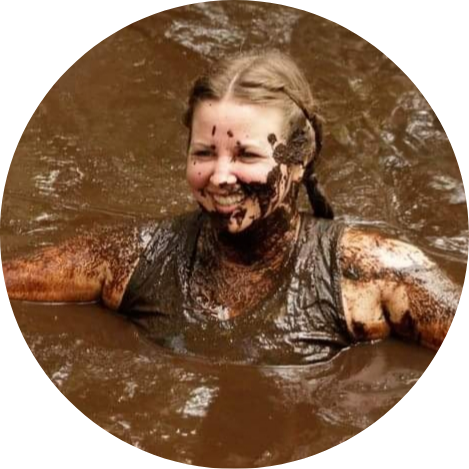 "MovNat was really helpful when I was training for obstacle course racing. I think I really surprised people how well I could move at my age/weight. The natural movements have also come in use in daily life, like helping to remove a fallen tree after a storm." – Lauren
"My body looks better. I am more capable performing basic human movements. It is more fun to do physical labor and physical play. MovNat is more motivating because of the variety of practical movements with less equipment needed." – Bryan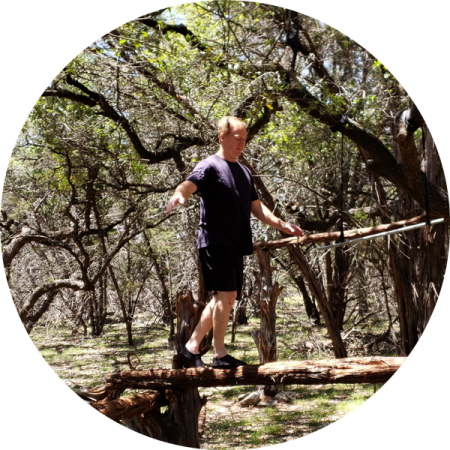 "MovNat has been the key to regaining mobility, overcoming old injuries and exceeding previous plateaus. Having everything broken down into the smallest movements and then adding layer after layer of complexity has allowed me to far exceed my original goals of just being able to sleep and move comfortably, thanks!" – Monte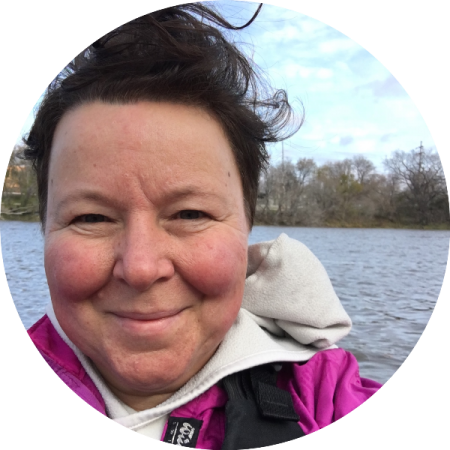 "It's been an inspiration that encouraged me to move again and restored my faith in fitness being more than just a selfish pursuit. The training has opened my mind to a different approach. I'm more aware of the abundance of opportunities to move outside a gym, have started to embrace working on weaknesses rather than ignoring or avoiding them and feel safer in the approach, more ok with taking it slow. The ecourses (fundamentals with Danny and Katy and L1 with Danny and Stephano) are amazing and pure joy to follow along with (not easy but so very well done!). I definitely have a ways to go and need to dig in more, adding more endurance and metabolic challenges as I start being more comfortable with the movements. You guys rock and I hope to someday meet some of you in person. Thank you!" – Barbara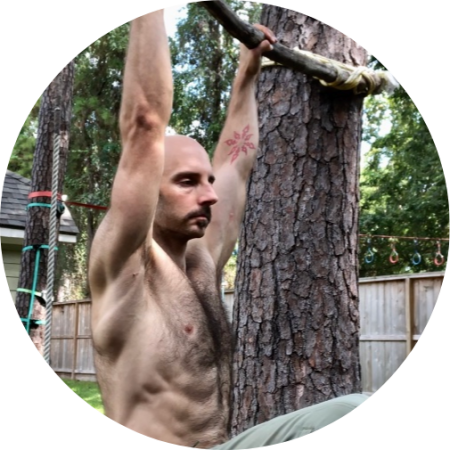 "I'm a captain with the Houston Fire Department and like the natural world; the emergency environment is extremely unpredictable. There was a time long ago when I had to talk myself into "working out"…especially when leg day rolled around. Movnat has completely revolutionized how I viewed human movement and fitness. Now, my body craves movement like one might crave coffee…ok I crave coffee too." – Doug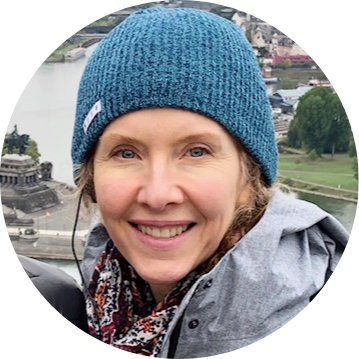 "I thank MovNat for bringing joy back into "exercise" and for helping me work on my functional mobility. I don't "go for walks" anymore; I look for fun opportunities to channel my inner kid again! Jumping onto and off of rocks, balancing on curbs and fallen trees, even doing the occasional cartwheel, has me smiling while I move my body the way nature intended all along. Considering my age and chronic injuries, I'm so thankful to have found MovNat two years ago. Regaining and growing my mobility and functional movement makes me very happy!" – Heidi
"My body moves so much better since I trained with MovNat. My hips, ankles and feet are much stronger and more mobile. I used to have such tight calves and stiff ankles and MovNat improved them much more than 20 plus years of yoga did. Through MovNat, I discovered that increasing strength improves joint mobility much better than stretching does. I blend natural movement with yoga and the result is playful and fun. I especially love how much fun it is to play outside, whether on a playground on in the woods. MovNat changed my perspective – now anything I encounter could be a potential object to jump over, crawl under, or balance on." – Lori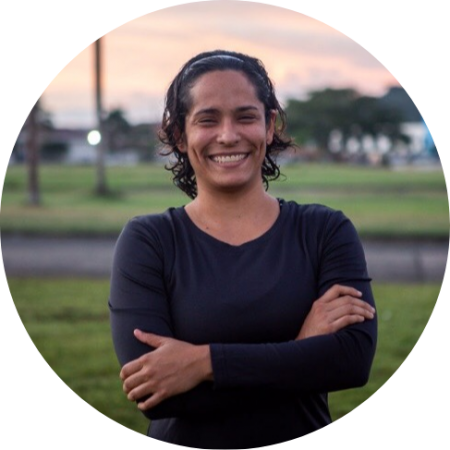 "Movnat has allowed me to keep progressing after being in a long plateau. I came in to the Movnat method with body awareness, but lots of rigidity and joint limitations that were not advancing. Movnat did a 180 degree change for me, allowed me to retake the fun aspects of training, allowed for play and introduced elements in my training that continued making those 1% changes that have led to accomplishing goals like my first pull up after more than 1 year of working towards that Goal. As a consequence I have also started to gain the looks :)" – Lourdes

Still Have Questions?