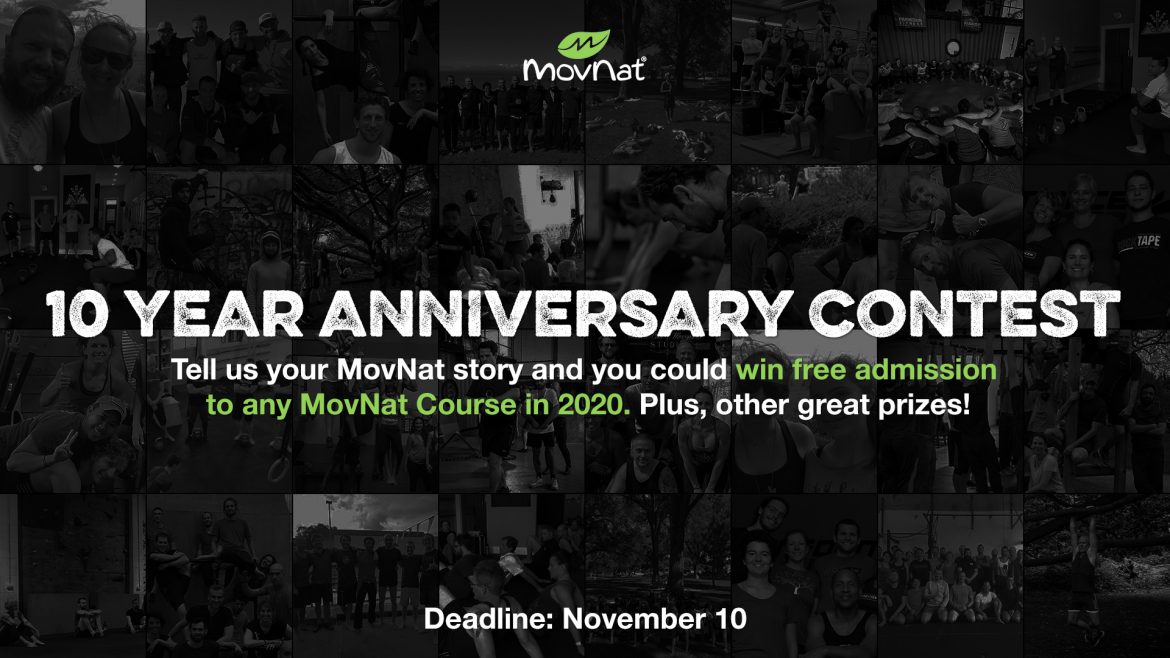 MovNat is ten years old, and we want to celebrate!
Have you wanted to attend an official MovNat course? Maybe your very first workshop, a certification, or one of our specialty events? Well, here's your chance! We're putting on a special "My MovNat Story" contest where you'll have an opportunity to win an awesome prize package and inspire thousands of people in the process!

Prizes
Runner-Up Prize
One free admission to any MovNat Course in 2020. Take your pick!
Natural Movement Fundamentals E-Course
The Practice of Natural Movement Book
MovNat T-Shirt
Grand Prize
One free admission to any MovNat Course in 2020. Take your pick!
Natural Movement Fundamentals E-Course
The Practice of Natural Movement Book
MovNat T-Shirt
That's everything you need to take your training to the next level. But winning this prize package won't be easy!

The Contest
We want to hear your story.
What does MovNat mean to you? How did you find it? Why do you use it? What benefits have you experienced from it? What have you learned from your journey? How has your life changed? How have YOU changed? What can you do now that you couldn't before? What challenges have you overcome? What do you want your friends to know about MovNat?
We want to hear whatever is on your heart to share about this system that has brought so many different people together, united under one common bond of Natural Movement.
Whether you're just getting started with the basics or you're a MovNat Certified Trainer who's been in the lifestyle for years, you have a story to tell. And we want to know what MovNat has done for you. You can tell us just the facts about who you are and what you've accomplished. Or, be more creative in your storytelling (hint: this may help your chances of winning!).
You can write your story and include a photo or two (high resolution is best). Or, if you prefer, tell your story in a video. Or, better yet, SHOW your story in a video. It can be 15 seconds or 15 minutes. A couple paragraphs, or a few pages. It could be interview-style, a mini-documentary, narrative, even a poem or song. It's YOUR story, and it's up to you.

Contest Details
Eligibility: This contest is open to anyone in the world.
Deadline: All submissions must be received by Sunday, November 10th at midnight PST.
How to submit your entry: Article and photo submissions may be sent via email to [email protected]. Video submissions may be sent to the same email address via WeTransfer.com. Or, you may email us for a secure, private folder to upload your video files to.
Note: Please use the subject line "My MovNat Story" so we don't miss your entry!
How the winners will be chosen: A team of judges from MovNat HQ will review all submissions and vote to select the top 5 finalists. From there, the grand prize winner will be chosen by executive decision. Of the remaining 4 entries, the runner-up prize winner will be chosen by random drawing. So, if you put some creative effort into your story, you still have a good chance of winning – even if you don't win the grand prize.
Note: MovNat reserves the right to publish all content submitted.

Let's Go!
A lot of people ask us how they can help MovNat. Well, this is a tangible way to do it, and there's no better time than now. Submit your story for a chance to level up your training, and in the process, you'll inspire thousands of people to take the next step in their MovNat journey.
We are so grateful for your support these last ten years, and we can't wait to see what you come up with as we celebrate our 10-year anniversary!
Sincerely,
-The MovNat Team
P.S. Need some inspiration? Here are some examples of past stories from our community.